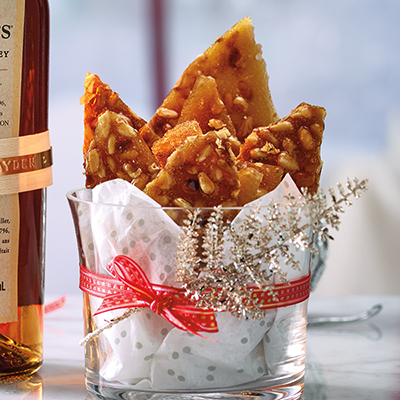 Ingredients
Serves 10
½ cup (125 ml) light corn syrup
¼ cup (60 ml) water1 cup (250 ml)
1 cup (250 ml) pine nuts, toasted
2 tsp (10 ml) vanilla extract
½ tsp (2.5 ml) flake salt
Instructions
Line a baking sheet with parchment paper and spray with non-stick cooking spray.
In a medium saucepan over medium heat, add sugar, corn syrup and water. Stir until mixture starts to bubble. Place a candy thermometer on side of saucepan and cook, without stirring, until thermometer reads 305 F (180 C). Mixture should be golden brown. Add pine nuts and stir to coat. Remove from heat and stir in butter, vanilla and baking soda.
Pour mixture over lined baking sheet, spread in a thin layer with a spatula. Sprinkle with flake salt and let set for 20 minutes.
Break apart and store, open on counter, up to two weeks.
Drink Pairings