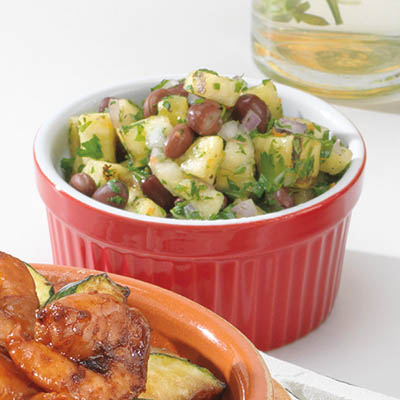 PINEAPPLE AND BLACK BEAN SALSA
Ingredients
Serves about 2 1/2 cups (375 ml)
½ pineapple, cut into four ½-in (1 cm) rings
2 tbsp (30 ml) melted coconut oil
½ cup (125 ml) finely diced red onion
¼ cup (60 ml) chopped cilantro leaves
¼ cup (60 ml) chopped flat leaf parsley leaves
¼ cup (60 ml) freshly squeezed lime juice, plus extra for seasoning
1 to 2 habanero chilies, minced, including seeds for a hotter salsa
1 tsp (5 ml) kosher salt, plus extra for seasoning
1 cup (250 ml) cooked black beans
Instructions
Preheat grill over medium heat. Alternatively preheat oven broiler and set an oven rack about 8-in (20 cm) from broiler element.
Brush pineapple slices with oil and grill them until caramelized and tender, about 3 to 4 minutes per side on grill or 6 to 8 minutes if broiling. Let pineapple sliced cool to room temperature before cutting into ¼-in (0.5 cm) dice.
In a large bowl, stir together diced pineapple, onion, cilantro, parsley, lime juice, habanero, salt and black beans until well combined. Season to taste with additional salt and lime juice. Place in a serving bowl and let sit for 20 minutes at room temperature before serving.
Drink Pairings