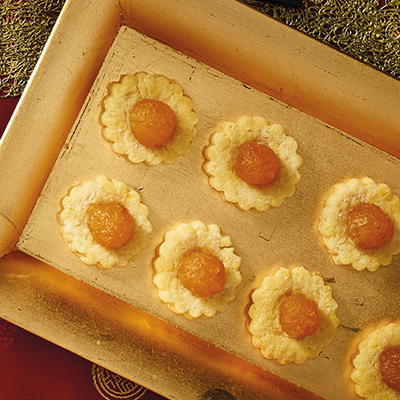 Ingredients
Serves 3 dozen cookies
20 oz (570 grams) fresh or frozen pineapple, finely chopped
½ cup (125 ml) white sugar
1 tsp (5 ml) + ½ tsp (2.5 ml) salt, divided
1 tsp (5 ml) grated ginger
1⅔ cups (400 ml) all-purpose flour
1 tbsp (15 ml) powdered milk
¼ cup (60 ml) icing sugar
¾ cup + 1 tbsp (190 ml) cold butter, grated
Instructions
To make Pineapple Jam, place pineapple, white sugar, cloves, cinnamon stick and 1 tsp (5 ml) salt in a non-reactive saucepan and bring to a boil over high heat. Turn down heat to low and slowly cook for about 1 to 2 hours, or until mixture reaches a jam consistency. Remove from heat and add grated ginger. Jam can be stored in refrigerator for up to 1 month.
To make dough, sift flour, powdered milk, icing sugar and ½ tsp (2.5 ml) salt into a large mixing bowl. Add grated butter to dry ingredients and cut it in with a pastry cutter until everything is a sandy texture.
Add beaten eggs to butter and flour mixture and mix until a dough forms. Shape dough into a ball and wrap with plastic wrap. Let dough rest in refrigerator for at least 1 hour or overnight.
When ready to bake cookies, preheat oven to 375 F (190 C).
On a lightly floured surface, roll out dough to 1-in (2.5 cm) thick. With a 2-in (4 cm) round or flower-shaped cookie cutter, cut out cookies. Place on a parchment-lined baking sheet. Top each cookie with 1 tsp (5 ml) prepared Pineapple Jam rolled into a ball.
Bake cookies for about 8 to 10 minutes, or just until starting to turn golden on edges.
Cool to room temperature before serving. Cookies can be stored in an airtight container for up to 1 week.
Drink Pairings