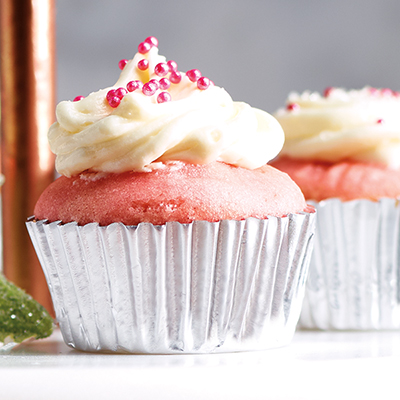 Ingredients
Serves 6 to 8
¾ tsp (4 ml) baking powder
½ cup (125 ml) salted butter, softened
1 tsp (5 ml) vanilla extract
½ cup (125 ml) buttermilk, divided
½ tsp (2.5 ml) baking soda
1 tsp (5 ml) apple cider vinegar
Cream Cheese Buttercream, make ahead, recipe follows
1 cup (250 ml) salted butter, softened
8 oz (250 g) package cream cheese, room temperature
2 tsp (10 ml) vanilla extract
3½ cups (875 ml) icing sugar
Instructions
Preheat oven to 350 F (175 C).
Line mini cupcake pan with mini liners and set aside.
In a large mixing bowl, sift together flour and baking powder. In another bowl, using an electric mixer, cream together butter and sugar. Mix in eggs, vanilla and food dye. Mix in half of the dry ingredients and half of the buttermilk. Repeat with remaining. Combine baking soda and vinegar and mix into batter. Spoon batter into lined cupcake tin and bake for 15 minutes, or until a toothpick inserted in centre comes out clean. Allow to cool before icing.
CREAM CHEESE BUTTERCREAM
In a large mixing bowl, using an electric mixer, beat butter until fluffy, about 5 minutes.
Beat in cream cheese and vanilla. Add sugar, 1 cup (250 ml) at a time, mixing as you go. Place in a piping bag and store at room temperature until ready to use.
Drink Pairings