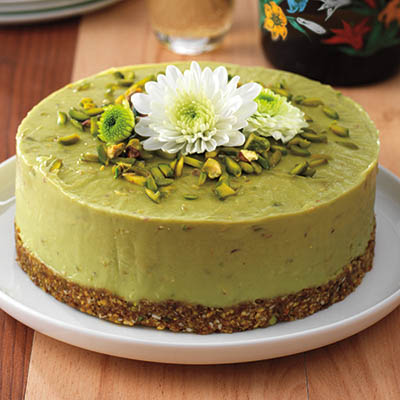 PISTACHIOS AND ORANGE BLOSSOM NO-BAKE CAKE
 Make 1 day ahead of serving.
Ingredients
Serves 4
½ cup + 2 tbsp (155 ml) raw pistachios, divided, plus extra for garnish
¼ cup (60 ml) unsweetened shredded coconut
½ tsp (2 ml) salt, divided
¾ cup + 1 tbsp (190 ml) maple syrup, divided
4 avocados, pitted and peeled
2 tbsp (30 ml) lime juice
1 tsp (5 ml) orange blossom water
edible flowers, for garnish
Instructions
Line bottom of a 6-in (15 cm) spring-form pan with parchment paper.
In a food processor, pulse ½ cup (125 ml) pistachios, dates, coconut and ¼ tsp (1 ml) salt until crumbly. Add 1 tbsp (15 ml) maple syrup and process until mixture is sticky and holds together when a bit is formed into a ball. Transfer to prepared spring-form pan and press over base of pan in an even layer. Place in freezer while making next layer.
In a blender or food processor, combine remaining ¾ cup (175 ml) maple syrup, ¼ tsp (1 ml) salt, avocados, lime juice and orange blossom water until smooth. Add remaining 2 tbsp (30 ml) pistachios and pulse so they are not fully blended and small pieces are still visible. Pour mixture over prepared crust. Smooth out top and sprinkle with additional chopped pistachios before freezing until firm, about 5 hours or overnight.
When ready to serve, garnish with edible flowers and extra pistachios, if desired. Slice with a warm knife and keep any leftovers frozen.
Drink Pairings