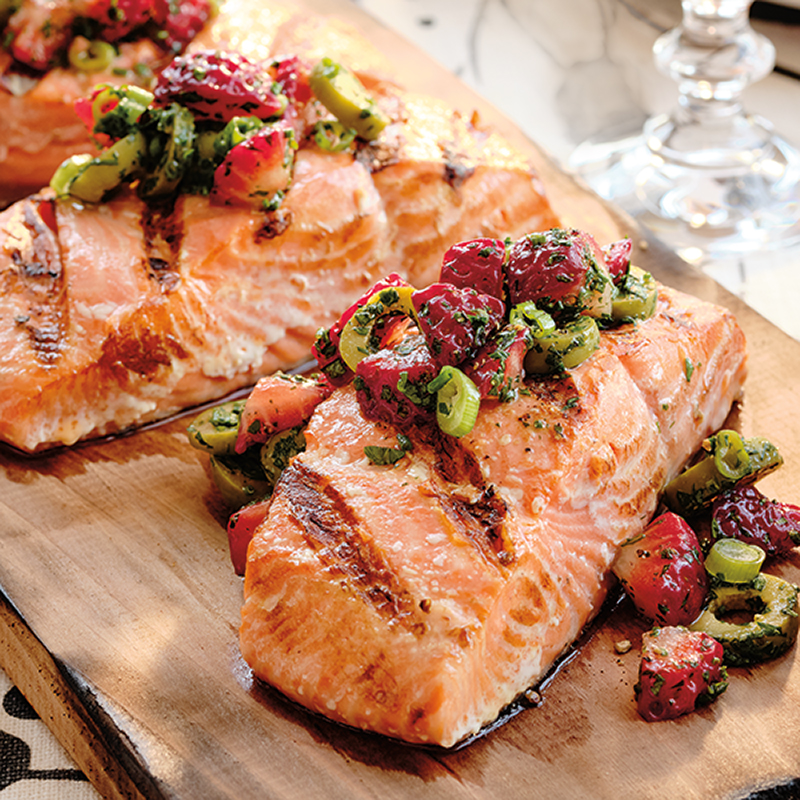 Plank-Grilled Salmon with Strawberry & Green Olive Tapenade
Ingredients
Serves 4
1 cedar plank, for grilling (about 17 in/43 cm)
¾ cup (175 ml) diced fresh strawberries
⅓ cup (75 ml) chopped pitted green olives
¼ cup (60 ml) thinly sliced green onions
¼ cup (60 ml) chopped fresh flat leaf parsley leaves
2 tbsp (30 ml) chopped fresh chives
2 tbsp (30 ml) red wine vinegar
2 tsp (10 ml) low-sodium soy sauce
1 tbsp (15 ml) extra-virgin olive oil
kosher salt and freshly ground black pepper, to taste
4 x 6 oz (170 g) skin-on salmon fillets
1 tbsp (15 ml) grapeseed oil
Instructions
1 to 2 hours before cooking, submerge cedar plank in water. When ready to cook, preheat grill to medium.
To make tapenade, in a medium bowl, mix together strawberries, olives, green onions, parsley, chives, vinegar, soy sauce and olive oil. Season to taste with salt and pepper and set aside.
Place cedar plank on grill. Coat salmon in grapeseed oil and season with salt and pepper. Place salmon skin-side down in a single layer on cedar plank. Cover and grill until salmon is uniformly pink in centre, about 12 to 15 minutes depending on thickness of salmon.
Transfer plank to a heatproof serving platter and spoon tapenade over salmon. Serve immediately.
Drink Pairings