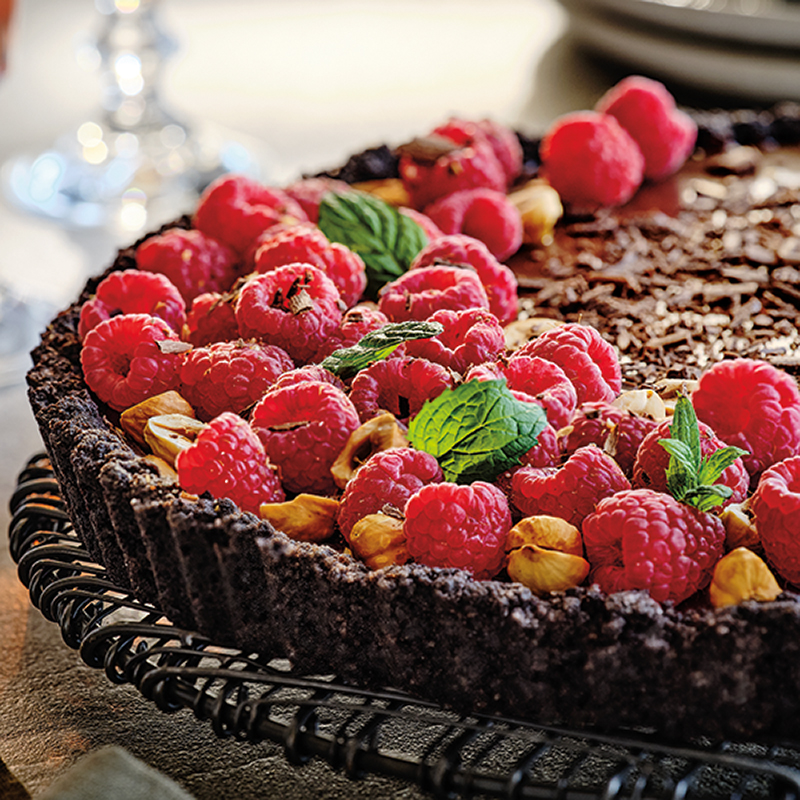 Plant-Based Chocolate Raspberry Tart
You'll be coming back for more with this recipe!
Ingredients
Serves 8-10
5 tbsp (75 ml) plant-based butter*, melted
1 x 14 oz (398 ml) can coconut cream
8 oz (226 g) semi-sweet plant-based chocolate, plus extra for garnish
2 cups (500 ml) fresh raspberries, for garnish
½ cup (125 ml) hazelnuts, roasted, for garnish
½ cup (125 ml) semi-sweet plant-based chocolate shavings, for garnish (optional)
5 mint leaves, for garnish
Instructions
Preheat oven to 350 F (175 C). Prepare a 11-in (28 cm) round tart pan by cutting an 11-in (28 cm) round of parchment paper and placing it in bottom of tart pan. Spray sides with cooking spray.
In a food processor, blend Oreos into crumbs. Slowly add butter while pulsing to form a wet sand-like crumble. Place mixture in centre of prepared pan. Using wet fingers or bottom of a water glass, press mixture down and up sides to form a crust. Bake for 8 to 10 minutes until crisp. Allow to cool completely.
In a saucepan, warm coconut cream over medium heat, about 4 minutes. Do not allow to come to a boil.
In a large stainless steel bowl, add chocolate and hot coconut cream. Allow to sit for 2 minutes. Whisk until all chocolate has melted, then whisk in vanilla and salt. Pour chocolate mixture into tart pan and let set in refrigerator for at least 4 hours, preferably overnight.
Garnish with raspberries, hazelnuts, chocolate shavings and mint leaves.
Drink Pairings