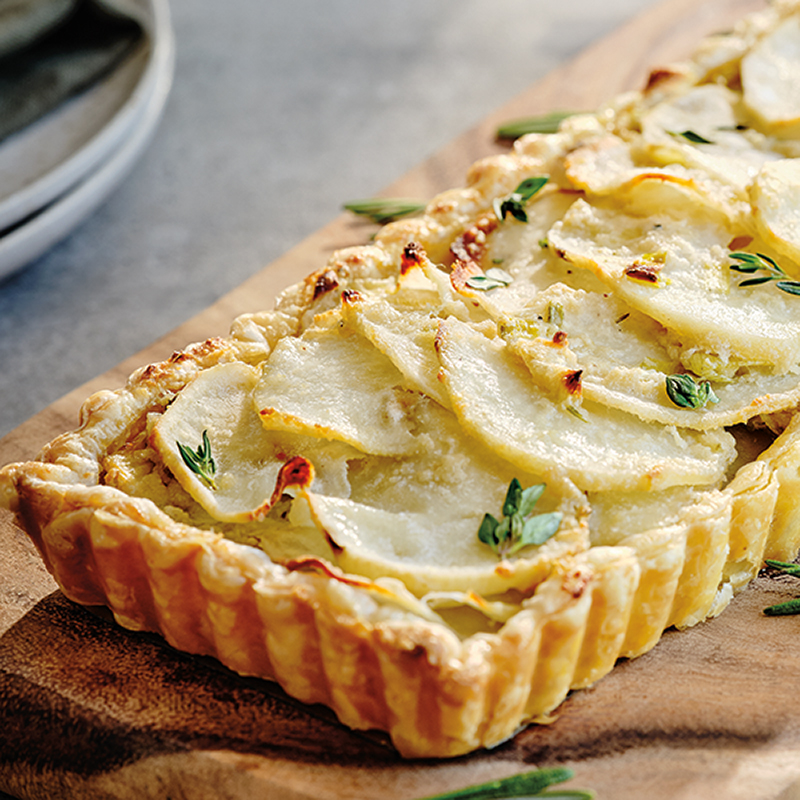 Plant-Based Potato Tart
Crisp puff pastry with russet potatoes, leeks and cashew cream, this potato tart is easy and quick to make and so delicious.
Ingredients
Serves 4-6
1 tbsp (15 ml) plant-based butter
2 leeks, white part only, sliced
1 cup (250 ml) oat milk, plus more if needed
1 cup (250 ml) raw cashews
1 tbsp (15 ml) chopped rosemary leaves
salt and pepper, to taste
2 small russet potatoes, peeled
1 sheet puff pastry, thawed*
Instructions
Preheat oven to 350 F (180 C). In a medium skillet over medium heat, melt butter. Add leeks and sauté for 5 to 8 minutes until soft. Add garlic and cook for another 2 minutes. Remove mixture from heat, place in a large stainless steel bowl and allow to cool.
In a medium saucepan, over medium heat, combine oat milk, cashews, rosemary and thyme. Allow to cook for 10 minutes until cashews are slightly softened. Remove thyme stems and set mixture aside to cool slightly.
In a high-speed blender, blend cashews and oat milk until very smooth. If needed, add 1 tbsp (15 ml) oat milk at a time to thin it out until a thick but silky consistency is achieved. Season with salt and pepper and add to leek mixture. Mix to combine.
Using a mandoline, slice potatoes as thin as possible. Add to leek and cashew mixture. Stir to coat.
Grease a 13 x 4-in (33 x 10 cm) rectangle tart pan with cooking spray. Lay puff pastry over pan and gently press down to form tart base. Trim excess pastry.
Place potatoes flat to pastry. Layer in an overlapping pattern until tart pan is full, scooping any remaining cashew cream onto tart while layering. It's ok if there are leftover potatoes, but try to use all the cashew cream.
Season again with salt and pepper and bake until golden brown and potatoes are fork-tender, about 20 to 30 minutes. If a crispier tart is desired, broil on high for 2 minutes. Garnish with fresh thyme.
Drink Pairings