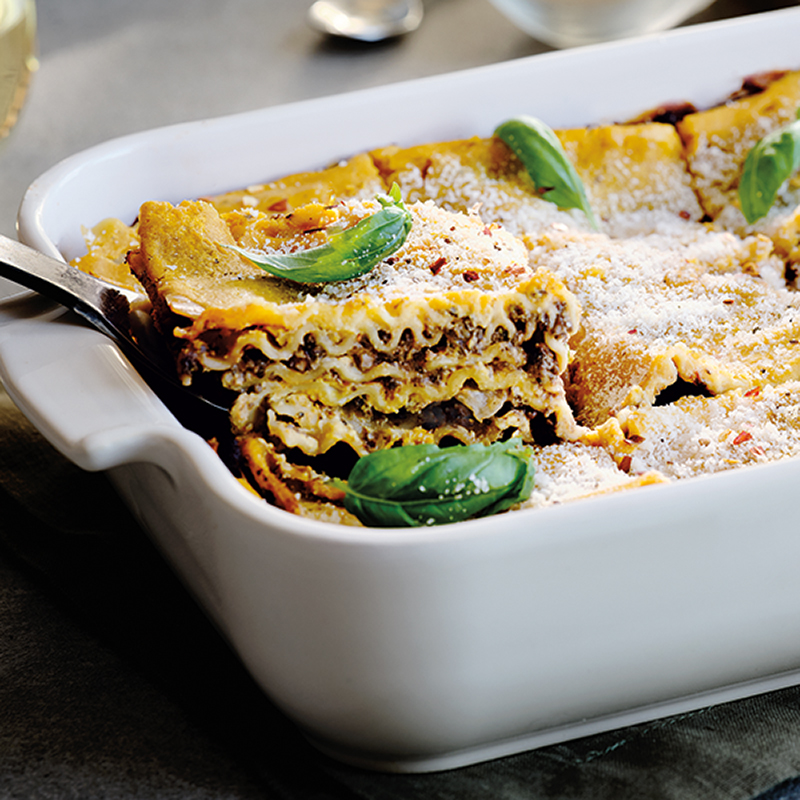 Plant-Based Squash & Mushroom Lasagna
Layered with butternut squash and cremini mushrooms, this plant-based lasagna is sure to satisfy.
Ingredients
Serves 6
1 small to medium butternut squash, halved (about 2 cups (500 ml) of squash)
1 package (450 g) chopped cremini mushrooms
1 small yellow onion, diced
1 cup (250 ml) store-bought tomato pasta sauce
salt and pepper, to taste
1 cup (250 ml) oat milk, plus more if needed
5 sprigs thyme, leaves only
½ cup (125 ml) nutritional yeast
1 package egg-free lasagna sheets (no cooking required)
½ cup (125 ml) plant-based Parmesan (optional)
Instructions
Preheat oven to 375 F (190 C). On a lined baking tray, place squash flesh-side down. Bake until fork-tender, about 40 minutes. Remove seeds and discard them. Scoop out squash flesh and set aside to cool.
In a food processor, add roughly chopped mushrooms and pulse until pieces are small and resemble minced meat.
In a large skillet, over medium-high, heat olive oil. Add onions and cook for 8 to 10 minutes, or until translucent. Add garlic and minced mushrooms and cook for 5 minutes or until some of the liquid has cooked off from mushrooms. Add tomato sauce and cook for another 5 minutes. Season with salt and pepper. Remove from heat and allow to cool.
In a saucepan, over medium-high heat, combine oat milk and cashews. Add thyme and nutritional yeast and cook for 8 minutes. Remove from heat.
In a blender, add oat milk, cashews and squash and blend on high until smooth béchamel sauce is made. If needed, add a little more oat milk, 1 tbsp (15 ml) at a time, until desired consistency. Season with salt and pepper.
In a 10 x 8-in (2 L) casserole dish, place a large spoonful of squash béchamel and spread it evenly to cover bottom of dish. Place 3 lasagna sheets across bottom of pan. If they don't fit perfectly, just break extra ends off to fit. Spread roughly ⅓ of mushroom mixture evenly over noodles. Place 3 more lasagna sheets over top. Layer with ⅓ squash mixture. Continue pattern, alternating squash and mushroom mixture between lasagna sheets until ingredients are used up. This works best if the squash béchamel is the final layer.
Sprinkle top with plant-based Parmesan. Bake for 45 minutes or until lasagna sheets are fork-tender.
Garnish with basil and serve.
Drink Pairings