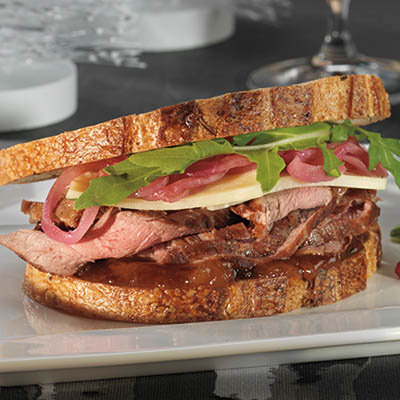 PLOUGHMAN'S STEAK SANDWICH WITH PICKLED RED ONIONS
Ingredients
Serves Serves 4
1 large red onion, peeled
¼ cup (60 ml) white wine vinegar
1½ tsp (7 ml) liquid honey
½ cup (125 ml) cranberries, fresh or frozen and thawed, chopped (optional)
2 x 6 oz (180 g) sirloin steaks, about 1½-in (4 cm) thick
1 tbsp (15 ml) olive oil, plus extra
salt and freshly ground black pepper, to taste
8 thick slices rosemary sourdough bread, toasted
½ cup (125 ml) prepared chutney
1 cup (250 ml) arugula leaves, washed and spun dry
Instructions
To make PICKLED RED ONIONS: Thinly slice onion into rings. Place in a large bowl. Cover with boiling water, stir, then drain well in a colander. Return to bowl and stir in vinegar, honey and salt. Let sit for at least an hour or several days, covered and refrigerated. Stir occasionally for even marinating. For longer storage, refrigerate in a jar with a tight-fitting lid up to a week. If adding cranberries, remove from refrigerator and stir in 1 hour before serving.
Bring steaks to room temperature and trim off excess fat. Pat dry with paper towel. Rub steaks with oil and season with salt and pepper. Preheat oven to 500 F (260 C).
Using an ovenproof frying pan large enough to hold steaks in a single layer without crowding, heat pan over high. Add steaks and sear over high heat about 3 minutes per side, until richly browned or until they register 130 F (54 C) on a meat thermometer for rare or 155 F (70 C) for medium-rare. Transfer steaks in pan to preheated oven for 2 to 3 minutes longer. Remove from oven and allow to rest for about 5 minutes.
While steaks are resting, brush toasted bread slices with olive oil. Grill in a hot, dry frying pan on both sides until crusty but not dark.
To assemble, place 4 slices toasted bread on a cutting board and spread with equal amounts chutney. Thinly slice steaks on the diagonal and divide slices evenly over top. Top with prepared pickled onions, a couple slices of cheese and arugula leaves. Place remaining toasted bread slices on top and serve with a side salad of your choice.
Drink Pairings