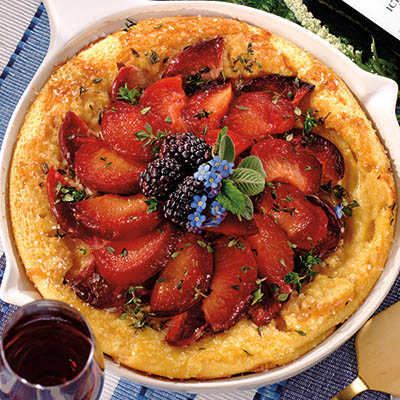 PLUM CLAFOUTIS WITH THYME
Ingredients
Serves 6
1 cup (250 ml) whole milk
½ cup (125 ml) white sugar
2 tbsp (30 ml) butter, melted
½ cup (125 ml) all-purpose flour
2 large plums, pitted and each cut into 8 pieces
1 tsp (5 ml) finely chopped fresh thyme
Instructions
Preheat oven to 325 F (170 C).
In a blender, pulse milk, eggs, sugar, melted butter and vanilla a few times to mix ingredients. Add flour and pulse until well mixed. Don't over blend.
Pour mixture into a greased 8-in (20 cm) pie pan or a cast iron skillet of the same size. Toss cut plums in thyme and place on top of batter. Bake for 30 to 40 minutes until it is puffed up and golden. Serve immediately.
Drink Pairings