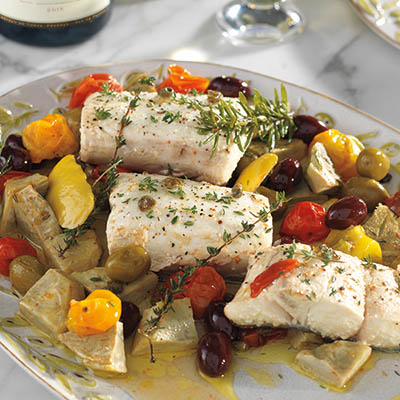 POACHED HALIBUT CASSEROLE WITH ARTICHOKES
Ingredients
Serves 4
3 cups (750 ml) olive oil
1 cup (250 ml) mixed, unpitted olives
2 tbsp (30 ml) capers, drained
3 to 4 medium fresh artichoke hearts, trimmed and cut into quarters
½ cup (125 ml) cherry tomatoes, halved or whole
sprigs fresh thyme and rosemary, to taste
sea salt and freshly ground black pepper, to taste
4 x 6-oz (180 g) halibut fillets
Instructions
In a saucepan that will fit halibut in a single, tight layer while completely submerged in olive oil, heat olive oil until very hot, but not boiling.
Reduce heat to a medium simmer. Carefully add olives, capers, artichokes, cherry tomatoes and herb sprigs. Squeeze in 2 halves of a lemon. Add a dash of salt and some ground pepper. Let the ingredients infuse the hot oil for 10 to 15 minutes.
With a slotted spoon, carefully remove as many of the ingredients as possible from the oil and set aside on a warm platter. Add halibut fillets, making sure they are completely submerged in oil. If they are not, add more oil and increase the heat to bring the heat level back up. Let halibut cook 6 to 8 minutes.
Remove and drain fish from olive oil and arrange with poached ingredients. Season and serve immediately.
Drink Pairings