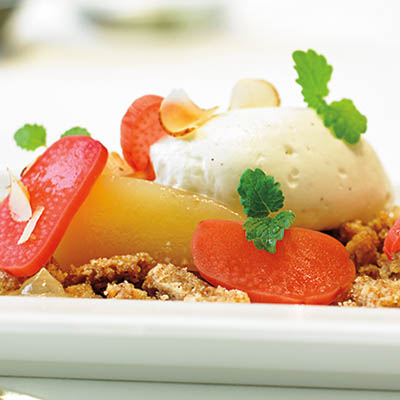 POACHED RHUBARB AND HAZELNUT CRUMBLE WITH PRESERVED PEARS
Ingredients
Serves 2
6 small stalks young rhubarb
⅓ cup (75 ml) muscovado brown sugar
3 tbsp (45 ml) hazelnuts, ground and lightly toasted
½ cup (125 ml) all-purpose flour
⅓ cup (75 ml) chilled butter, diced
preserved pears, for garnish
vanilla whipped cream or ice cream, for garnish
fresh lemon balm, for garnish
Instructions
Gently peel stalks with a sharp paring knife. Place peeled skins in a saucepan with enough equal parts sugar and water to cover, and seeds scraped from vanilla bean. Cover and simmer for 10 minutes. Strain liquid in a bowl and discard skins. Return liquid to saucepan.
Chop fresh rhubarb into bite-sized pieces. Add to liquid and poach until tender. Remove from heat and set aside.
Preheat oven to 350 F (180 C). Line a baking sheet with parchment. Pulse remaining ingredients, other than garnishes, in a food processor to a course sand texture. Sprinkle evenly over parchment-lined pan. Bake for approximately 20 minutes or until lightly browned. Cool to room temperature and chop to desired size of crumble.
Serve a ribbon of crumble on a dessert plate, dollop with some poached rhubarb. Place a couple slices of preserved pears on top and dollop with whipped cream or ice cream and garnish with fresh lemon balm.
Drink Pairings