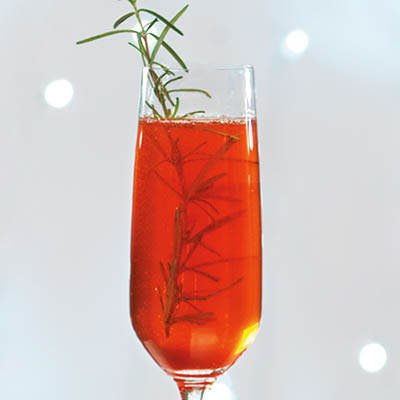 Ingredients
Serves 1
¾ oz (22 ml) Marquis de Villard VSOP Brandy
1½ oz (45 ml) Spiced Cranberry Cordial (make ahead, recipe follows)
¾ oz (22 ml) freshly squeezed lemon juice, strained
2 oz (60 ml) Freixenet Cordon Negro Brut
1 rosemary sprig, for garnish
SPICED CRANBERRY CORDIAL:
1½ cups (375 ml) warm water
4 tea bags of Organic Chai Tea (such as Tazo)
3 cups (750 ml) fresh cranberries, halved
Instructions
Combine brandy, cordial and lemon juice in a mixing glass with ice. Stir until chilled and strain into a Champagne flute. Top with sparkling wine. Gently bruise a sprig of rosemary and lower into glass to garnish.
To make SPICED CRANBERRY CORDIAL: In a small saucepan over low heat, combine water, tea bags and cut cranberries. Stir frequently and adjust heat to maintain only a simmer until cranberries have completely softened, approximately 20 to 25 minutes. It is important to use low heat throughout the process, to prevent pectin from being activated.
Strain through a fine strainer and press berries and tea bags to extract liquid. Strain a second time through a coffee filter, changing filter as needed. Filtration will take up to 30 minutes. Rinse the saucepan and combine cranberry/tea mixture with sugar. Simmer to dissolve. Store refrigerated, up to 1 month. Makes about 1¼ cup (310 ml).
Featuring