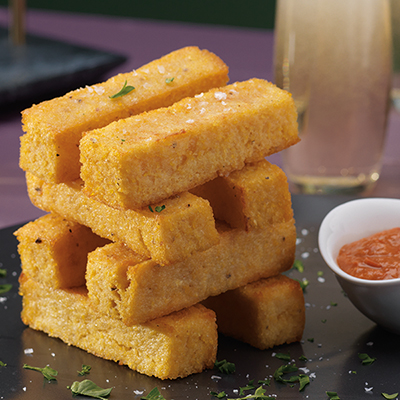 Polenta Crisps with Tomato Jam
Ingredients
Serves 6 to 10
3½ cups (875 ml) vegetable stock
1 cup (250 ml) grated Parmesan
2 tbsp (30 ml) extra-virgin olive oil
1 cup (250 ml) cherry tomatoes, halved
3 tbsp (45 ml) balsamic vinegar
salt and pepper, to taste
Instructions
In a saucepan over high heat, bring vegetable stock to a boil. Add polenta and stir rapidly with a whisk. Reduce heat to low and let simmer for 5 to 10 minutes, stirring occasionally. Add Parmesan and let cool for 2 minutes. Pour polenta into a parchment-lined 10-in x 10-in (25 cm x 25 cm) square baking pan. Place in refrigerator to set, minimum 4 hours (preferably overnight).
To make Tomato Jam, in a medium-sized skillet over medium heat, heat olive oil. Sauté onion until translucent. Add tomatoes and balsamic vinegar. Reduce heat to low and simmer until soft. Remove from heat and let cool.
Preheat oven to 425 F (220 C). Remove block of polenta from pan and cut into 3-in (8 cm) long rectangles. Spray a baking sheet and polenta with oil. Place polenta fries on pan and bake for 15 to 20 minutes, then flip, bake for another 15 minutes, or until golden brown.
Using a blender, blend tomato mixture lightly, some lumps should remain. Season jam to taste with salt and pepper.
Serve polenta warm with Tomato Jam on side.
Drink Pairings