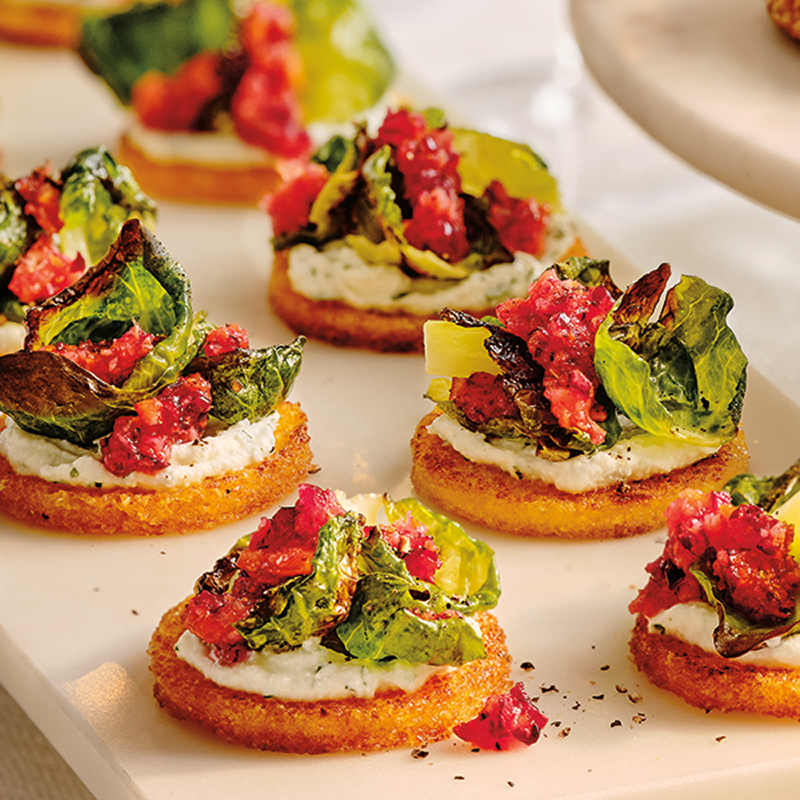 POLENTA ROUNDS WITH CRISPY BRUSSELS SPROUTS & CRANBERRY-ORANGE RELISH
Be the toast of the town this New Year's by throwing a gathering full of inspired bites that are not only delicious, but also easy to whip together as well. All that will be left is to pop a bottle of Champagne and toast to the New Year.
Ingredients
Serves Makes about 24 pieces
1 tbsp (15 ml) melted unsalted butter, plus extra for greasing
1½ tsp (7 ml) kosher salt, divided
½ orange, unpeeled, cut into chunks and seeded
6 oz (180 g) fresh cranberries
⅓ cup to ½ cup (75 to 125 ml) granulated sugar
1 cup (250 ml) ricotta cheese
1 tbsp (15 ml) whipping cream
½ tsp (2.5 ml) freshly ground black pepper, divided
1 tbsp (15 ml) finely chopped parsley leaves
1 tsp (5 ml) finely chopped thyme leaves
4 cups (1 L) Brussels sprout leaves
2 tbsp (30 ml) grapeseed oil, plus extra for frying
Instructions
Start this hors d'oeuvre 1 day ahead of when you plan to serve. Preheat oven to 350 F (180 C).
To make polenta, generously grease a 9 x 13-in (23 x 33 cm) baking pan with butter. In a medium bowl, whisk together melted butter, warm water, polenta and 1 tsp (5 ml) salt. Pour into prepared pan then bake until polenta is set firm, about 50 minutes. Let polenta cool to room temperature in pan on a wire rack. Transfer polenta in baking pan to refrigerator and chill at least 6 hours or overnight.
Meanwhile, make cranberry-orange relish. Place orange pieces, cranberries and sugar (amount will depend on how sweet you want your chutney) in bowl of a food processor fitted with steel blade attachment. Pulse, scraping down sides of bowl as needed, until mixture is finely chopped but still very textured. Transfer relish to an airtight container, cover and refrigerate for at least 2 hours, to allow flavour to develop.
To make whipped ricotta, add ricotta, whipping cream, ¼ tsp (1 ml) salt and pepper to bowl of food processor. Fold in parsley and thyme. Refrigerate until ready to assemble hors d'oeuvre.
Preheat oven to 400 F (200 C).
Add Brussels sprout leaves to a large bowl then drizzle with oil. Using fingers, rub oil over leaves, making sure to separate any leaves that are stuck together. Spread Brussels sprout leaves in a single layer on a rimmed baking tray and sprinkle with remaining ¼ tsp (1 ml) salt and ¼ tsp (1 ml) black pepper. Bake until slightly crispy, about 10 to 12 minutes. Remove and set aside.
Just before ready to serve, use a cookie cutter to cut chilled polenta into about 2-in (5 cm) rounds. In a frying pan over medium heat, heat 2 tbsp (30 ml) oil. Working in batches, fry polenta rounds until crisp on both sides, about 4 minutes total. Transfer to a paper towel-lined plate to drain briefly then onto a serving platter.
When ready to serve, spread some whipped ricotta over polenta, making a little well in centre of ricotta. Place a dollop of cranberry-orange relish in well then top with a few crispy Brussels sprout leaves.
Drink Pairings