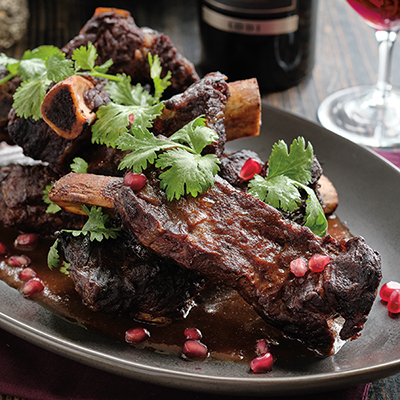 POMEGRANATE-BRAISED BEEF SHORT RIBS
Ingredients
Serves 4
4 tbsp (60 ml) grapeseed oil, divided
4 lbs (2 kg) bone-in short ribs (8 to 10 uncut ribs)
salt and pepper, to taste
1 tbsp (15 ml) minced ginger
1 x 6 oz (170 g) can tomato paste
2 cups (500 ml) pomegranate juice
2 cups (500 ml) beef stock
½ cup (125 ml) cilantro leaves
½ cup (125 ml) pomegranate seeds
Instructions
Preheat oven to 375 F (190 C).
Season ribs generously with salt and pepper and sprinkle with flour on all sides. In a Dutch oven or large heavy-bottomed saucepan with a lid, over medium heat, heat 2 tbsp (30 ml) oil. Sear ribs in 2 batches, flesh side down, until golden brown, for about 3 minutes on each of the 3 meaty sides. Remove ribs and set aside.
In the same Dutch oven or saucepan, add remaining 2 tbsp (30 ml) oil, onion, celery and carrots and sauté for 5 minutes over medium-high heat. Add garlic and ginger and sauté just until softened, about 5 to 10 minutes more. Add tomato paste and stir to coat. Add rosemary, sage, thyme, pomegranate juice, wine and stock. Bring to a boil then turn off heat. Add ribs to liquid, cover Dutch oven or saucepan and place in oven to braise for 2 hours, or until meat is falling off the bone. Check after 1 hour that ribs are submerged in liquid; if not, stir and return to oven.
Transfer ribs to a serving platter. Strain out solids from sauce and discard, reserving liquid.
In a medium saucepan over medium-high heat, reduce reserved liquid to thicken, about 15 to 20 minutes, until sauce coats the back of a spoon or reaches desired thickness. Pour sauce reduction over ribs, as desired, and garnish with cilantro and pomegranate seeds.
Drink Pairings