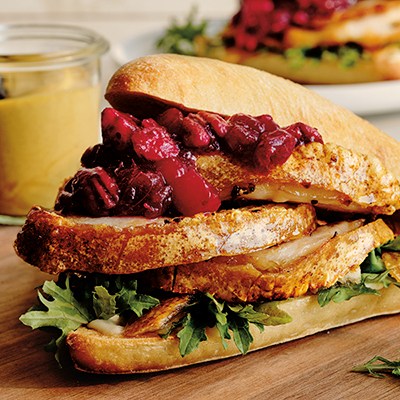 Porchetta Sandwich with Cranberry Pear Relish
Ingredients
Serves 8
1 tbsp (15 ml) roughly chopped rosemary leaves
½ tsp (2.5 ml) finely ground black pepper
1 tsp (5 ml) coarsely crushed fennel seeds
1 tsp (5 ml) red pepper flakes
2 tsp (10 ml) kosher salt, divided, plus extra for seasoning
3 lb (1.5 kg) piece boneless pork belly
1 tbsp (15 ml) grapeseed oil
1 cup (250 ml) dry white wine
6 oz (170 g) fresh cranberries
1 large pear, diced (about ¾ cups/175 ml)
½ cup (125 ml) granulated sugar
½ tsp (2.5 ml) kosher salt
⅓ cup (75 ml) roughly chopped toasted pecans
8 ciabatta rolls, cut in half lengthwise
Instructions
To make Porchetta, in a small bowl, stir together rosemary, garlic, black pepper, fennel seeds, red pepper flakes and 2 tsp (10 ml) salt until well combined. Set herb and spice mixture aside.
On a large cutting board, place pork belly skin-side down and score in a crisscross pattern with a sharp knife, about ½-in (1.25 cm) deep. Rub herb and spice mixture all over scored surface. Neatly roll meat, skin-side out, and tie with kitchen twine at regular intervals to hold it in shape. Place Porchetta on a plate and cover with plastic wrap, or place in an airtight container, and refrigerate overnight.
Meanwhile, make Cranberry Pear Relish. In a medium saucepan, stir together cranberries, pear, sugar, water and ½ tsp (2.5 ml) salt over medium heat. Once mixture comes to a simmer, reduce heat to medium-low and cook at a low simmer, stirring often, until most cranberries have burst and mixture has thickened nicely, about 15 to 20 minutes. Remove saucepan from heat and set aside, allowing relish to cool completely. Transfer to an airtight container, cover and refrigerate until chilled, about 2 to 4 hours. At this point, relish can be refrigerated for up to 1 week. Just before you are ready to serve, stir in chopped pecans.
Remove Porchetta from refrigerator and allow to sit at room temperature for at least 1 hour, then preheat oven to 400 F (200 C).
Place Porchetta on a wire rack in a roasting pan, rub with grapeseed oil and season with extra salt. Roast for 30 minutes. Pour wine over skin of Porchetta, reduce heat to 350 F (180 C) and continue to roast for 2 hours more. Increase heat to 425 F (220 C) and roast for another 30 minutes to finish crisping up skin. Remove Porchetta from oven and allow to rest for 30 minutes. Carve into thick slices.
To assemble sandwiches, spread 1 half of ciabatta roll with mayonnaise and other half with Cranberry Pear Relish. Top with slices of Porchetta, crispy pork skin and baby kale. Serve immediately.
Drink Pairings