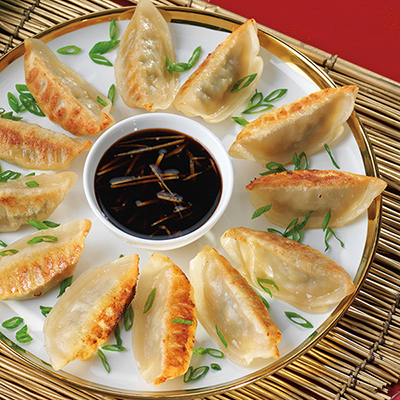 Ingredients
Serves 3 to 4 dozens
¾ lb (340 g) medium raw prawns, peeled and deveined
⅓ cup (75 ml) finely chopped green onion
2 tsp (10 ml) ginger, peeled, finely grated
3 to 4 dried Chinese mushrooms, rehydrated in warm water until
soft, drained, stems removed and finely chopped
¼ cup (60 ml) water chestnuts, finely chopped
1 tbsp (15 ml) Chinese rice cooking wine
1 large egg, lightly beaten
½ tsp (2.5 ml) ground white pepper
2 tsp (10 ml) light soy sauce
1 tbsp (15 ml) cornstarch
1 package fresh round dumpling or gyoza wrappers
9 to 12 tbsp (135 to 180 ml) peanut or canola oil, divided
1 to 1½ cups (250 to 375 ml) water, divided
Ginger-Vinegar Dipping Sauce, to serve, recipe follows
GINGER-VINEGAR DIPPING SAUCE:
½ cup (125 ml) Chinese black vinegar
or substitute balsamic vinegar
¼ cup (60 ml) peeled and finely julienned ginger
1 tsp (5 ml) garlic-chili sauce (optional)
Instructions
To make filling, in a bowl, add all ingredients up to dumpling wrappers and mix with a wooden spoon until well combined. Cover and refrigerate for at least 6 hours or up to overnight.
To assemble, remove 1 wrapper and keep remaining wrappers covered with a light damp cloth to keep from drying. Place 1 round wrapper in palm of hand, place 1 tbsp (15 ml) of filling in centre, and fold round into a half moon. Using thumb and forefinger of other hand, pleat the seam closed, making 5 to 7 pleats. Repeat to form more dumplings. Place on parchment-lined baking sheet in rows close together but without touching each other. While making dumplings, cover finished ones with plastic wrap to prevent from drying out. Can be cooked immediately or frozen in a single layer. If freezing, transfer to resealable plastic bag and keep frozen until ready to use.
In a heavy-bottomed non-stick skillet over high heat, heat 3 tbsp (45 ml) of oil. When wisp of white smoke appears, turn off heat and place 12 to 18 of the dumplings in pan. Turn heat to medium and allow dumplings to cook for 3 minutes. Pour ½ cup (125 ml) of water into pan and allow dumplings to cook for 7 to 10 minutes, or until water evaporates. Cover with lid and reduce heat to low and allow dumplings to cook for about 2 minutes, or until golden brown on bottom and skins are translucent on top. To ensure dumplings cook evenly, move pan back and forth over burner to prevent sticking. Remove from heat and repeat with remaining batch. Serve immediately with Ginger-Vinegar Dipping Sauce.
If using frozen, thaw and allow to come to room temperature, then cook as above.
TO MAKE GINGER-VINEGAR DIPPING SAUCE: In a bowl, combine ingredients and allow to stand for 30 minutes before using.
Drink Pairings