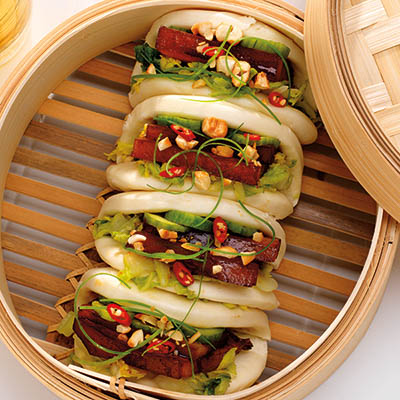 Ingredients
Serves 12 bao buns
1 lb (500 g) pork belly, with the skin on, prick skin with a sharp paring knife
1 tbsp (30 ml) white or palm sugar
1 tbsp (30 ml) dark soy sauce
1 tbsp (30 ml) regular soy sauce
2 tsp (10 ml) Chinese Shaoxing cooking wine
1 garlic clove, peeled and crushed
⅛ of a small onion, peeled
1 green onion, cut into ½-in (1.25 cm) lengths
¼-in (0.5 cm) ginger slice
½ piece Thai chili, or more, to taste
¼-in (0.5 cm) piece cinnamon stick
1 cup (250 ml) water, plus extra
12 frozen bao buns (Available at Asian markets in the frozen section. They may be called Chinese/ Taiwanese Hamburger Buns.)
2 stalks green onions, sliced thinly
3 tbsp (45 ml) cilantro, picked
1 Thai chilli, thinly sliced (optional)
¼ cup (60 ml) roughly chopped roasted cashews
1 cup (250 ml) Napa cabbage (siu choy), sliced thinly
¼ cup (60 ml) rice wine vinegar
1 tbsp (15 ml) white sugar
Instructions
Preheat oven to 250 F (130 C). Place the pork belly in an ovensafe baking dish or pot just large enough to fit the pork.
In a pot, combine remaining ingredients up to (but not including) bao buns. Bring mixture to a boil then pour over pork belly. Add enough water to cover belly. Cover with foil and cook in the oven for 5 to 6 hours, or until tender. Flip pork over halfway through cooking.
Once done cooking, remove pork from braising liquid and place on a baking tray. Lay a piece of plastic wrap over pork and place another baking tray or flat plate on top. Place a heavy can on the plate to weigh down the pork, and place in refrigerator overnight to press the meat.
Strain braising liquid and discard the aromatics and spices, chill overnight.
When ready to serve, discard the solidified fat from the braising liquid, then reduce liquid in a saucepan over medium heat. The liquid should coat the back of a spoon. Remove from heat and set aside.
Slice pork belly into ½-in (1.25 cm) thick pieces that will fit inside bao buns. Heat pork belly in the reduced braising liquid over medium heat, turning occasionally to glaze the pork all over with the sauce.
Steam buns in a bamboo steamer for 5 to 8 minutes, or until soft. Place 1 to 2 pieces heated pork belly in each bun and garnish with ¼ cup (60 ml) Pickled Cabbage, green onions, chilies, cilantro and cashews.
To make PICKLED CABBAGE, In a bowl, mix together all ingredients. Squeeze mixture with hands until liquid starts to come out of cabbage. Store in a sealed container or glass jar overnight. The cabbage can be stored in the refrigerator in the pickling liquid for up to 1 month.
When ready to use, take out desired serving amount and squeeze liquid from cabbage. Makes 1 cup (250 ml).
Drink Pairings