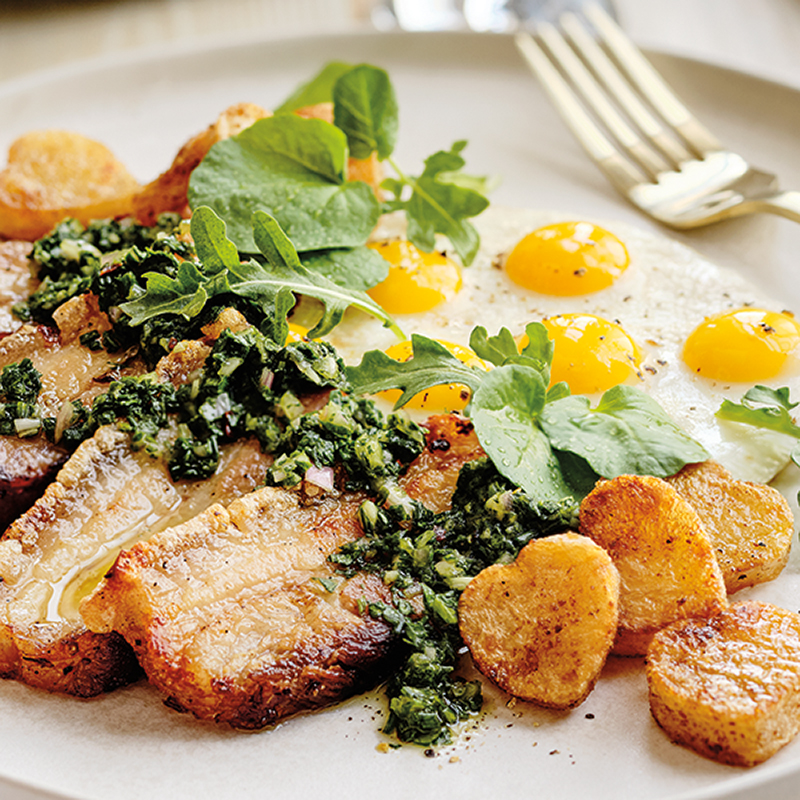 PORK BELLY WITH QUAIL EGGS & HASHBROWN HEARTS
Spoil your valentine by making this unforgettable brunch item.
Ingredients
Serves 2
4 tsp (20 ml) kosher salt, plus extra for seasoning
2 tsp (10 ml) granulated sugar
¼ tsp (1 ml) freshly ground black pepper, plus extra for seasoning
1 lb (500 g) pork belly, skin on
½ cup (125 ml) chopped flat-leaf parsley
½ cup (125 ml) chopped basil leaves
2 tbsp (30 ml) chopped chives
¼ tsp (1 ml) crushed red pepper chili flakes
⅓ cup (75 ml) extra-virgin olive oil
1 tbsp (15 ml) red wine vinegar
1 cup (250 ml) watercress greens or baby arugula
Hashbrown Hearts, make ahead, ingredients start below
4 large yellow potatoes, about 2 lbs (1 kg)
3 tbsp (45 ml) grapeseed oil
1 tsp (5 ml) ground cumin
Kosher salt and freshly ground black pepper, to taste
Instructions
Prepare pork belly 2 days (or at least 1 day) ahead. In a small bowl, whisk together salt, sugar and pepper. Set aside.
Pat skin of pork belly dry with a paper towel. With a sharp knife, score through skin every ½-in (1.25 cm) at a diagonal, cutting through skin and into fat, but not so deep that you hit meat. Repeat cutting in opposite diagonal to create a diamond pattern. Season pork belly with salt, sugar and a few grinds of black pepper. Place in an airtight container, cover and refrigerate overnight.
The next day, place an oven rack in the middle position, then preheat oven to 450 F (230 C).
Place pork on a rimmed baking tray or a large oven-safe frying pan and roast for 30 minutes. Reduce heat to 275 F (140 C) and continue to roast pork until tender but not mushy, about 1 hour. Remove from oven and let pork cool to room temperature. Wrap tightly in plastic wrap or parchment paper and refrigerate until thoroughly chilled, for at least 3 hours and up to 2 days.
While pork belly chills, make herb sauce. In a medium bowl, whisk together parsley, basil, chives, shallot, garlic and chili flakes until combined. Whisk in olive oil and vinegar then season to taste with salt and pepper. Set aside or transfer to an airtight container and refrigerate for up to 1 day.
When ready to serve, cook eggs. Heat a small non-stick frying pan over medium-high heat. Brush with some oil and break 6 eggs into pan. Cook until whites are set but yolks are still runny, about 2 to 3 minutes. Transfer eggs to a serving plate and repeat to cook remaining 6 eggs.
Thickly slice pork belly and brown slices in a frying pan set over medium heat until warmed through and lightly browned, about 5 to 8 minutes. Arrange alongside eggs and top with some watercress greens, then drizzle some herb sauce over greens and pork belly. Serve while pork belly is warm alongside Hashbrown Hearts (recipe follows).
Instructions for hashbrowns start below: Preheat oven to 400 F (200 C). While oven is preheating, place a large rimmed baking tray in oven to warm.
Fill a large saucepan with cold water and place on stovetop, but do not turn on stove yet.
Peel and slice potatoes into ¼-in (0.5 cm) thickness. Using a small metal, heart-shaped cookie cutter, cut out as many hearts as you can. Reserve potato scraps in water for another use. Add potato hearts to saucepan filled with water and bring to a boil over high heat. Once at a boil, reduce heat to medium-high and continue to cook potatoes for 3 minutes. Drain potatoes and place in a large bowl.
In a small bowl, whisk together oil, paprika, ground cumin and a good pinch of both salt and pepper. Drizzle over potatoes and gently toss to coat. Let sit for 3 minutes.
Carefully remove hot tray from oven and tip potatoes onto tray in a single layer. Roast for 10 minutes, then stir, flip potatoes and roast again until golden brown and crisped, about another 15 to 20 minutes. Let cool on tray for 2 minutes before transferring to a serving bowl. Enjoy while warm. Reheat before serving, if needed.
Drink Pairings