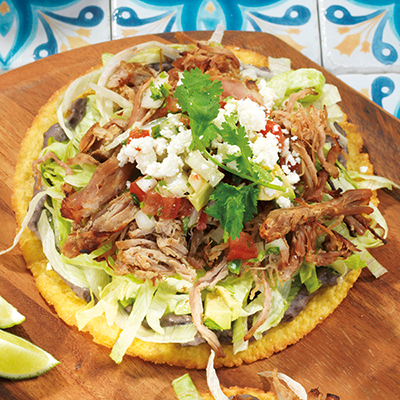 Ingredients
Serves 10 to 12
1 tbsp + ½ tsp (15 ml + 2.5 ml) Mexican oregano or substitute oregano, divided
1 tbsp + ¾ tsp (15 ml + 4 ml) ground cumin, divided
1 large white onion, cut into large chunks, about 2-in (5 cm)
2 oranges, juiced, or about 1 cup (250 ml) orange juice
3 limes, juice only, divided
2 lbs (1 kg) skinless, boneless pork butt or shoulder, patted dry
1 large red onion, finely diced, about ¼-in (0.5 cm)
1 dozen ripe Roma tomatoes, seeded, finely diced, about ¼-in (0.5 cm)
2 cups (500 ml) finely chopped cilantro, plus extra for garnish
4 jalapeños, seeded and finely chopped, divided, to taste
2 green onions, finely chopped
4 tbsp (60 ml) extra-virgin olive oil, divided
Vegetable oil, for frying
12 to 16 6-in (15 cm) fresh corn tortillas
4 garlic cloves, finely chopped
2 x 19 oz (540 ml) cans black beans, rinsed and drained
1 x 14 oz (398 ml) can low-sodium chicken stock
½ head iceberg lettuce, finely shredded
1 cup (250 ml) Mexican Queso Blanco or substitute feta, for garnish
Instructions
In a mixing bowl, mix together salt, pepper, 1 tbsp (15 ml) oregano, 1 tbsp (15 ml) cumin, white onion, 8 smashed garlic cloves, orange juice, juice from 2 limes and bay leaves, add pork and massage mixture to coat. Cover with plastic wrap and refrigerate overnight, turning occasionally to marinate.
Transfer pork and marinade into bowl of a 24 cup (6 L) slow cooker. Cover and set on high heat for 5 to 6 hours, or until meat falls apart. Remove pork, reserving liquid, and shred with two forks. Transfer and spread shredded pork onto a foil-lined baking sheet, lightly sprayed with cooking oil. Pour about 1 cup (250 ml) of reserved liquid over pork to season. Broil for 5 to 10 minutes on high heat until meat becomes golden browned and crispy on edges.
To make Pico de Gallo, in a large non-reactive mixing bowl, add red onion, tomatoes, cilantro, 2 to 3 jalapeños, green onions, juice from 1 lime and 2 tbsp (30 ml) olive oil. Gently mix and season to taste. Cover and refrigerate until ready to use. Peel, pit and finely dice avocado and fold into Pico de Gallo right before using.
In a deep skillet, pour enough vegetable oil to reach ½-in (1.25 cm) deep. Heat over medium heat until hot or until oil reaches 350 F (180 C). Carefully place whole tortilla into hot oil. Fry until lightly golden, about 1 minute or less, turning over half way. Drain on a paper towel-lined baking sheet. Repeat with remaining tortillas.
To make Mexican Black Beans, heat a large, heavy saucepan over medium-high heat. Add 2 tbsp (30 ml) olive oil, chopped garlic, 1 jalapeño and ¾ tsp (4 ml) cumin. Sauté for 1 minute until softened, then add beans, ½ tsp (2.5 ml) oregano and stock, cook 10 minutes, stirring occasionally. Mash with potato masher and use a hand immersion blender and process until smooth. Continue boiling until thick, stirring frequently, about 8 to 10 minutes. Season to taste.
To assemble, spread a couple tablespoons of Mexican Black Beans over a fried tortilla. Add a small handful of pork carnitas, about ¼ cup (60 ml), over black bean layer, then a handful of shredded lettuce. To garnish, add a dollop of Avocado Pico de Gallo, a sprinkle of cheese and chopped cilantro.
Drink Pairings