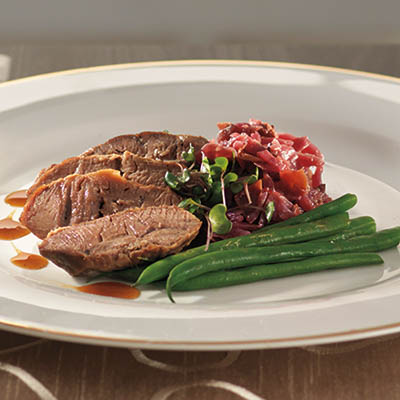 Ingredients
Serves 4
8 pork cheeks (about 1 lb – 500 g)
1 each, medium carrot, small onion, medium celery stalk, red apple, coarsely chopped
2 tsp (10 ml) apple cider vinegar
2 cups (500 ml) chicken stock
1 slice bacon or pancetta, diced
2 tbsp (30 ml) finely chopped onions
1 lb (500 g) red cabbage, quartered, cored and thinly sliced
1 apple (red or green), peeled, cored and cut into small dice
1 tbsp (15 ml) apple cider vinegar
1 tbsp (15 ml) apple jelly
Instructions
To make PORK CHEEKS: Pre-heat oven to 325 F (160C). Pat pork cheeks dry and season with salt and pepper on both sides.
In a saucepan, heat oil. Add pork cheeks, cook in batches, turning halfway, for 4 to 5 minutes or until browned. Remove and set aside.
Add carrot, onion, celery and apple and cook until lightly browned. Add sage leaves, Calvados and apple cider vinegar, simmer until reduced by half. Add pork and enough stock to cover. Bring to a simmer and cover. Transfer to oven and cook for 1½ to 2 hours or until very tender. Remove pork and reserve.
Bring braising liquid to a boil and cook for about 20 minutes, or until reduced by half. Strain liquid through a fine sieve into a saucepan. Bring to boil, lower heat and simmer until reduced by half again. To serve, either shred or slice the pork cheeks, add sauce and seasonal vegetables.
To make RED CABBAGE: In a large Dutch oven, cook bacon over low heat until fat is rendered. Increase heat to medium-low, add onions and cook until lightly coloured. Add remaining ingredients and ½ cup of water. Cover and cook over medium-low heat until cabbage is very soft, about 1 hour, adding boiling water during cooking if cabbage gets too dry.
Drink Pairings