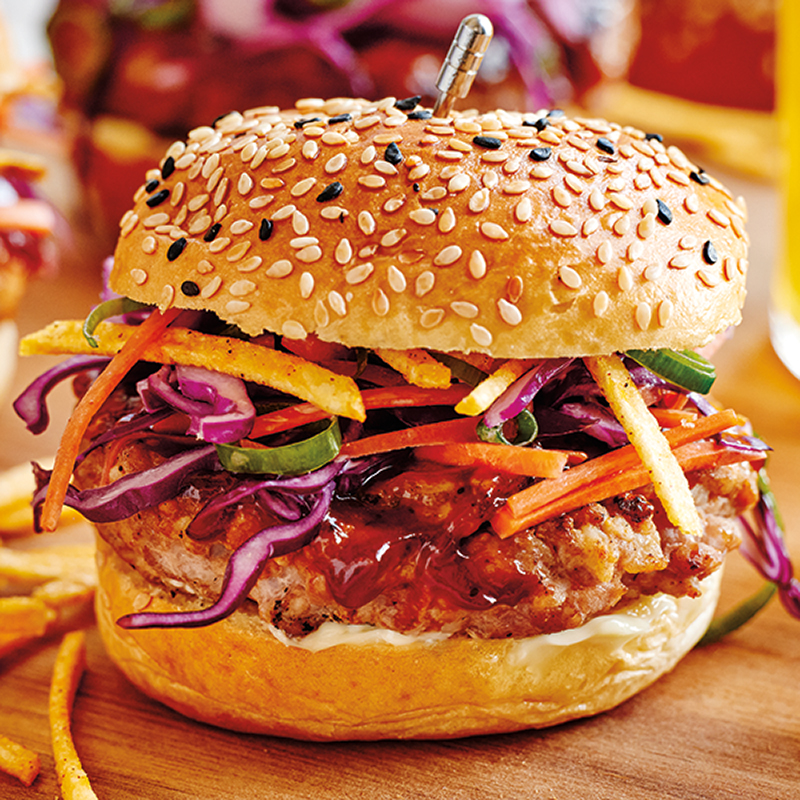 Ingredients
Serves 8
¾ cup (175 ml) barbecue sauce
3 tbsp (45 ml) apple cider vinegar, divided
1 tbsp (15 ml) brown sugar
1½ lbs (680 g) ground pork
2 tsp (10 ml) Cajun seasoning
2 tbsp (30 ml) vegetable oil
1 cup (250 ml) thinly sliced red cabbage
¼ cup (60 ml) julienned carrots
1 green onion, thinly sliced
1 tsp (5 ml) grainy mustard
3 tbsp (45 ml) mayonnaise, divided
salt and pepper, to taste
1 small bag hickory sticks
Instructions
In a saucepan over medium heat, cook barbecue sauce, molasses, ketchup, 2 tbsp (30 ml) apple cider vinegar and brown sugar until reduced by half, about 5 to 10 minutes.
Divide ground pork into 8 patties. Sprinkle with Cajun seasoning and salt and pepper to taste.
Preheat barbecue to medium-high and grease grills with 2 tbsp (30 ml) oil. Brush patties with barbeque sauce mixture.
To make cabbage slaw, in a medium-sized bowl, mix cabbage, carrot, green onion, remaining 1 tbsp (15 ml) apple cider vinegar, mustard and 2 tbsp (30 ml) mayonnaise. Season to taste with salt and pepper and set aside.
Grill patties for 4 to 6 minutes, until cooked to 160 F (70 C), turning frequently and brushing with barbecue sauce mixture. While patties are cooking, warm buns cut-side down on top rack of barbecue.
Remove patties from barbecue and let rest for 1 to 2 minutes.
To assemble burgers, place a patty on each bottom bun, add remaining 1 tbsp (15 ml) mayonnaise and drizzle with more remaining barbecue sauce mixture. Divide cabbage slaw evenly between burgers and top with hickory sticks and bun tops.
Drink Pairings