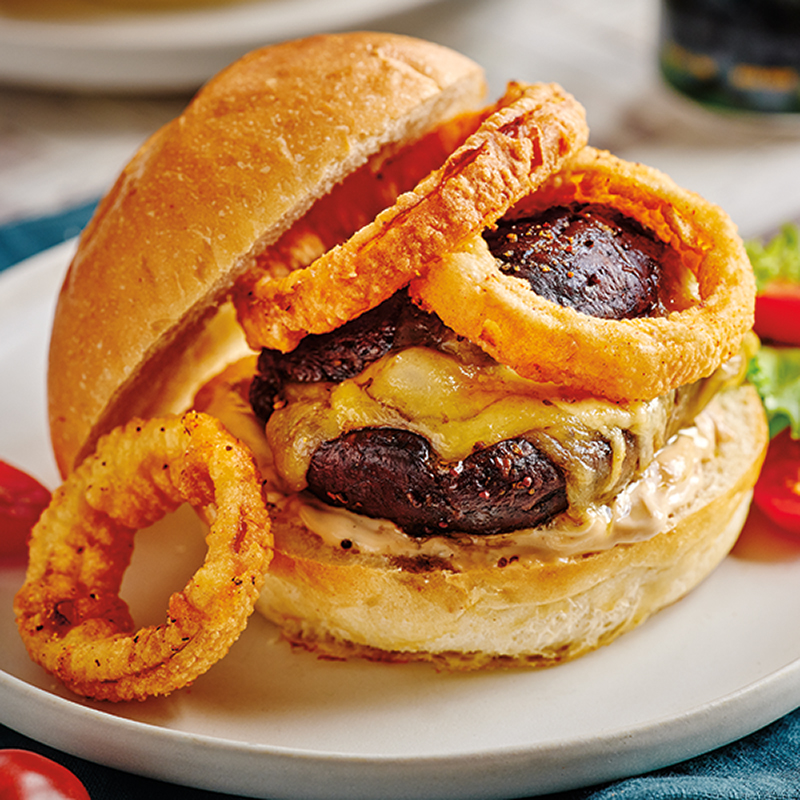 PORTOBELLO MUSHROOM BURGERS
Ingredients
Serves 4
2 tbsp (30 ml) red wine vinegar
3 tbsp (45 ml) extra-virgin olive oil
1 tsp (5 ml) onion powder
2 sprigs thyme, leaves removed and chopped
1 large white onion, cut into 1-in (2.5 cm) slices
½ cup (125 ml) sour cream
3 tbsp (45 ml) dry onion soup mix
1 tbsp (15 ml) minced chives
1 tbsp (15 ml) minced parsley
vegetable oil for deep frying
1 cup + 1 tbsp (250 ml +15 ml) all‑purpose flour, divided
2 tsp (10 ml) seasoning salt, plus extra to taste
1 cup (250 ml) beer, such as lager
Instructions
To make marinade, in a resealable bag or container, mix vinegar, olive oil, onion powder, garlic, thyme, salt and pepper. Add mushrooms and toss to coat. Refrigerate mushrooms in marinade for at least 1 hour, or overnight.
Soak onion slices in ice water for 1 hour, drain and dry with paper towels. Separate slices into rings and set aside.
To make onion spread, in a small bowl, mix sour cream, mayonnaise, onion soup mix, chives and parsley. Set aside.
Fill a medium-sized saucepan with 3-in (8 cm) oil and heat to 375 F (190 C).
In a medium-sized bowl, mix 1 cup (250 ml) flour, seasoning salt and beer until smooth. Dust onions with remaining flour. Working in batches, dip onion rings in batter until coated, then fry until golden brown, about 2 to 3 minutes per side. Remove from oil and drain on a rack. season to taste with seasoning salt.
On a barbecue preheated to medium-low, grill mushrooms until cooked through and soft, turning occasionally, about 15 minutes. Place a slice of cheese on 4 mushroom caps and top with a second cap. Continue grilling, turning occasionally, until cheese is melted. Meanwhile, grill buns, cut-side down until golden brown.
To assemble burgers, spread onion spread on cut sides of buns. Top with a portobello burger, lettuce leaf and 2 onion rings. Serve remaining onion rings with remaining onion spread.
Drink Pairings