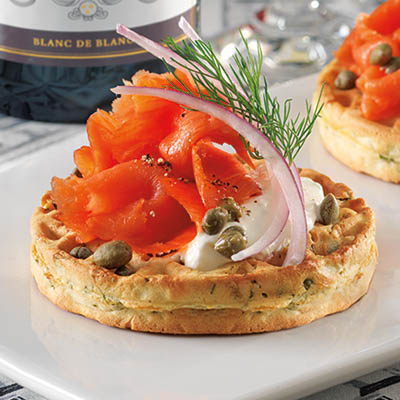 POTATO AND KALE WAFFLES WITH SMOKED SALMON
Ingredients
Serves 6
1½ cups (375 ml) all-purpose flour
1 tbsp (15 ml) baking powder
½ tsp (2 ml) freshly ground pepper
1½ cups + 2 tbsp (405 ml) buttermilk, divided
¼ cup (60 ml) grapeseed oil
1 cup (250 ml) peeled and shredded yellow potatoes
2 tbsp (30 ml) finely chopped chives
2 cups (500 ml) finely shredded kale
¾ cup (175 ml) crème fraîche
1 tbsp (15 ml) prepared horseradish
12 oz (340 g) smoked salmon
1 small red onion, thinly sliced
¼ cup (60 ml) capers, drained and rinsed
fresh dill sprigs, for garnish
Instructions
Preheat a mini waffle maker according to manufacturer's instructions.
In a large bowl, sift together flour, cornstarch, baking powder, salt and pepper. Make a well in flour mixture and add 1½ cups (375 ml) buttermilk, oil and egg yolks. Whisk mixture together until smooth. With a rubber spatula, gently fold in potatoes, chives and kale.
Place egg whites in a medium bowl and whisk into stiff peaks. Add egg whites into potato batter and gently fold into mixture until well combined.
Fill preheated waffle maker with batter, close lid and cook until golden brown and firm, about 5 minutes. Transfer waffle to a wire rack and continue making waffles with remaining batter.
In a small bowl, whisk together remaining 2 tbsp (30 ml) buttermilk, crème fraîche and horseradish.
Place waffles on a serving platter and top each with a dollop of horseradish sauce, salmon, onions and capers. Garnish with dill sprigs. Serve immediately.
Drink Pairings