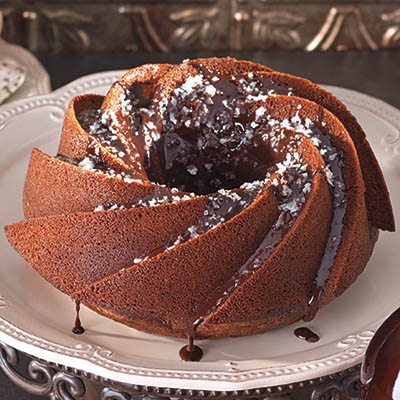 POTATO CHOCOLATE CAKE WITH SEA SALT GANACHE
Ingredients
Serves 16
1 large russet or sweet potato
1¾ cups (425 ml) all-purpose flour, sifted
1½ tsp (7 ml) baking soda
⅛ (0.5 ml) freshly ground black pepper
⅛ (0.5 ml) crushed red pepper flakes
1½ cups (375 ml) granulated sugar
¼ cup (60 ml) unsalted butter
4 oz (125 g) bittersweet chocolate
½ tsp (2 ml) espresso powder
¼ tsp (1 ml) blood orange flavouring or zest from ½ orange
4 oz (125 g) bittersweet chocolate
⅓ cup (75 ml) whipping cream
¼ cup (60 ml) dark chocolate flakes
1 tsp (5 ml) sea salt flakes
Instructions
To make CAKE: Preheat oven to 350 F (180 C). Grease a 10-in (25 cm) Bundt cake pan or tube pan and set aside.
Peel russet or sweet potato and cut into large cubes. Place in a saucepan and cover with water. Bring to a boil and cook over medium heat with lid slightly ajar until fork-tender. Drain, return to saucepan to steam dry, then mash thoroughly until smooth, set aside to cool.
In a separate bowl, measure out flour, baking soda, salt and seasonings. Stir to blend. Set aside. In bowl of an electric stand mixer, combine sugar and eggs. Beat with wire whisk at medium- high until smooth and ribbons begin to form when whisk is lifted.
Add butter and chocolate to a small saucepan over very low heat, until almost fully melted. Remove from heat, stir to dissolve any remaining chunks. Stir in espresso powder and blood orange flavouring or zest. Gradually beat mixture into sugar and egg mix until blended. Gradually beat in buttermilk. Measure out 3⁄4 cup (175 ml) cooled potato, beat in until smooth.
Beat in flour mixture and continue to beat on medium-high for 2 minutes or until creamy. Scrape batter into prepared Bundt cake pan. Bake in centre of oven for 50 minutes to 1 hour, or until a cake tester inserted into centre comes out clean. Cool cake in pan on rack for 5 minutes before turning out and cooling on rack completely.
Prepare GANACHE: Combine chocolate and cream in a small heavy-bottomed saucepan. Heat over medium-low, stirring constantly with a wooden spoon until chocolate is almost melted. Remove from heat and continue to stir until mixture is smooth and no more lumps remain. Drizzle Ganache over cooled cake. Sprinkle with chocolate flakes and sea salt flakes. Cut into thin slices and serve.
Drink Pairings