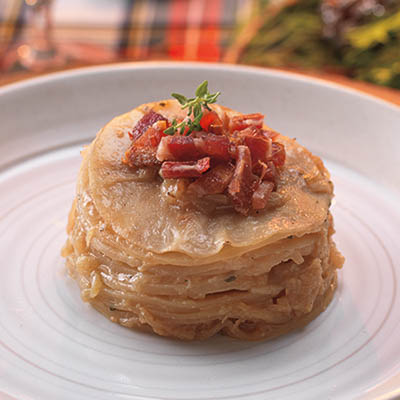 POTATO GALETTE WITH MAPLE CANDIED BACON
Ingredients
Serves 8
4 large russet potatoes, peeled and thinly sliced
2 tbsp (30 ml) fresh thyme, finely chopped
2 cups (500 ml), chicken or vegetable broth
1 lb (500 g) thickly sliced bacon
½ cup (125 ml) maple syrup
1 tbsp (15 ml) Dijon mustard
2 tsp (10 ml) apple cider vinegar
Instructions
Preheat oven to 400F (200C). Line an 8-cup muffin tin with parchment paper. Parchment paper should extend over muffin cup edges to create handles. Set aside.
In a skillet, melt butter over medium heat. Add onions, stir to coat with melted butter and cook over medium heat until golden, about 30 minutes. Remove from heat and cool completely.
Using a cookie cutter the size of the bottom of a muffin cup, cut each potato slice. Place a layer of potato slice in the bottom of each muffin cup. Add onions and fresh thyme to each cup. Season with salt and pepper. Repeat layers (gently pressing potatoes to pack down) until all ingredients are used up. Add chicken broth to fill each cup to the top.
Bake on middle rack of oven until potatoes are tender when pierced with a knife, about 40 minutes. Let rest 10 minutes before lifting out. Gently pull away the parchment paper with the tip of a knife. Serve immediately. Garnish with Maple Candied Bacon.
To make MAPLE CANDIED BACON: Preheat oven to 400 F (200 C). Line a baking sheet (including edges) with foil and place a cooling rack on top.
In a small bowl, stir together maple syrup, mustard, vinegar and pepper. Add half the mixture to a baking dish, reserving rest for basting. Lay the bacon, piece by piece, in the baking dish, coating both sides, then transfer bacon to the cooling rack, making sure the slices do not overlap.
Place in the oven and cook for 5 minutes. Baste slices, flip them and baste other side. Cook for 20 to 25 minutes or until crispy, basting every 5 minutes. Remove from rack and place on parchment paper or silicone mat.
Drink Pairings