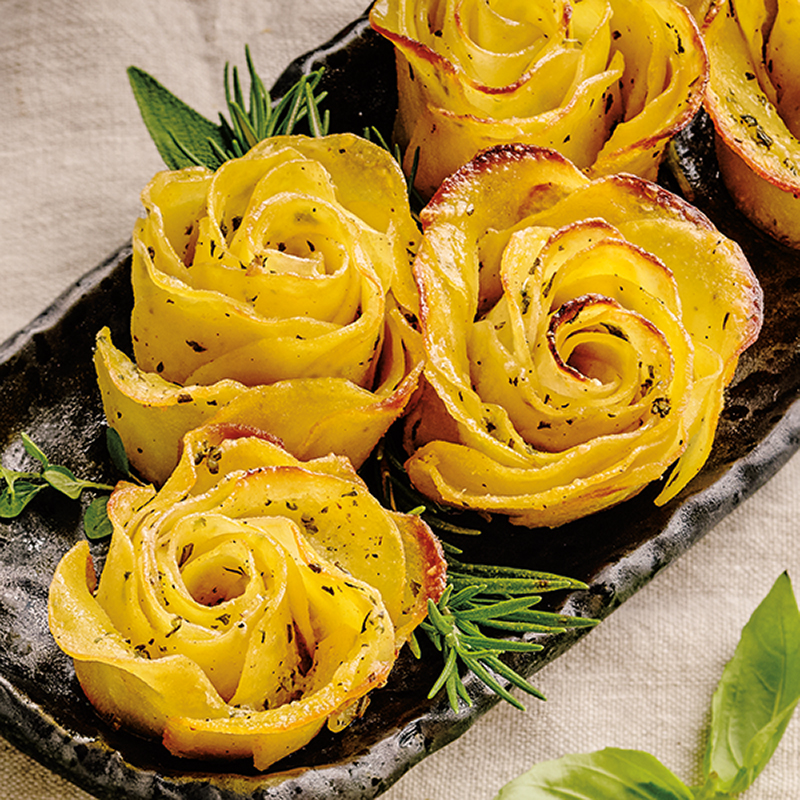 Potato Rosettes
A delicious menu idea for your Thanksgiving table.
Ingredients
Serves 12 rosettes
3 lbs (1.5 kg) Yukon Gold potatoes, or any yellow potatoes
¼ cup (60 ml) butter, melted
1 tbsp (15 ml) fresh rosemary leaves, chopped or 1 tsp (5 ml) dried rosemary leaves, crushed
¼ tsp (1 ml) cayenne pepper
½ tsp (2.5 ml) freshly ground black pepper
½ cup (125 ml) finely shredded Parmesan
Instructions
Preheat oven to 400 F (200 F).
Using a mandoline, slice potatoes into ⅛-in (0.25 cm) thickness and place in a large bowl. Toss with salt.
In a small bowl, mix olive oil, butter, rosemary, cayenne and ground pepper. Pour over potatoes and mix thoroughly to coat.
Add Parmesan, ¼ cup (60 ml) at a time, and mix well after each addition.
On a clean surface, stagger 6 to 7 potato slices in a single row. Roll first potato slice and continue rolling to form a rose*. Place in a greased muffin pan and bake until edges of potato rosettes start to turn golden in colour, about 30 to 40 minutes. Test for doneness by inserting a toothpick into centre of rosette. It should pierce easily. If not, cover with foil and continue cooking, another 10 to 15 minutes.
*Cut about ¼-in (0.25 cm) off 1 end of potato roll. Place cut-end down to serve as a base for the rose and place it in the muffin pan. Loosely flare out outer potato "petals" to resemble a rose. Bake according to recipe.
Let cool for 5 minutes in muffin pan and then, with a spoon, gently scoop out rosettes to serving plate.
Drink Pairings