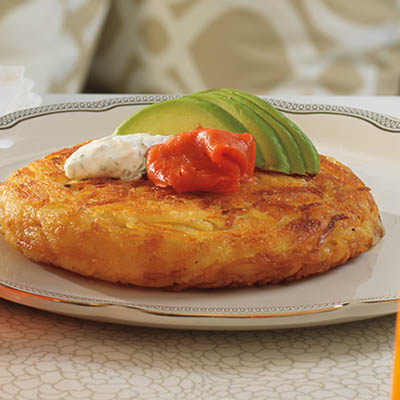 POTATO ROSTI WITH SMOKED SALMON AND AVOCADO
Ingredients
Serves 4
1 lb (500 g) Yukon Gold potatoes, peeled
¼ cup (60 ml) unsalted butter, melted, divided
4 oz (125 g) sockeye salmon lox
1 avocado, peeled and sliced
½ cup (125 ml) crème frâiche
1 tbsp (15 ml) each, chopped chervil, chopped chives
Instructions
Preheat oven to 375 F (190 C). Grate potatoes using the coarse side of a box grater. Transfer to a bowl of cold water, rinse out excess starch. Remove from water and dry on paper towels, then return to bowl.
Remove and discard white milk solids from melted butter. Pour half the butter and salt over potatoes and mix thoroughly.
Heat an 8-in (20 cm) non-stick ovenproof frying pan over medium heat, add remaining butter. Add potatoes and press them down evenly. Cook potatoes until golden brown underneath. Transfer pan to oven and bake for 15-20 minutes, or until the top of the potatoes have started to soften. Flip once and bake for another 15-20 minutes, or until the bottom is golden brown and cooked through. Immediately serve with lox, avocado and crème frâiche mixed with chervil and chives.
Drink Pairings