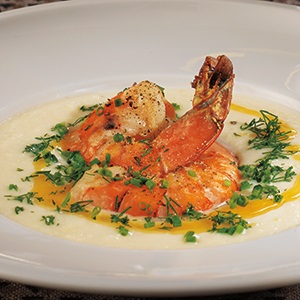 PRAWN, LEEK AND CAULIFLOWER CHOWDER
Ingredients
Serves 4
¼ cup (60 ml) unsalted butter, divided
2 leeks, trimmed, white part only, chopped
1 large yellow potato, peeled and chopped
3 cups (750 ml) fish stock
1¼ cups (300 ml) whole milk
1 lb (500 g) cauliflower, trimmed and roughly chopped
2 tbsp (30 ml) lemon juice
1 lb (500 g) prawns, peeled, deveined and tail left on
2 tbsp (30 ml) chopped fresh dill, for garnish
2 tbsp (30 ml) chopped fresh chives, for garnish
freshly ground black pepper, for garnish
Instructions
In a medium saucepan, melt 2 tbsp (30 ml) butter over medium heat. Add leeks and cook, stirring often, until softened, about 4 minutes. Stir in potatoes, stock, milk and a pinch of salt. Bring to a simmer and cook for 8 minutes. Add cauliflower and simmer 10 minutes. Remove from heat and stir in sour cream and lemon juice.
Using a hand-held immersion blender or a food processor, partially purée mixture. Set aside and keep warm.
In a large frying pan, melt remaining butter over medium-high heat. Add prawns and a pinch of salt and sauté until curled and pink, about 2 minutes. Remove from heat. In a small bowl, gently toss together dill and chives.
Divide soup among warmed bowls. Top with a few prawns and a sprinkle of herbs. Garnish with a drizzle of prawn cooking butter and a pinch of black pepper. Enjoy right away.
Drink Pairings