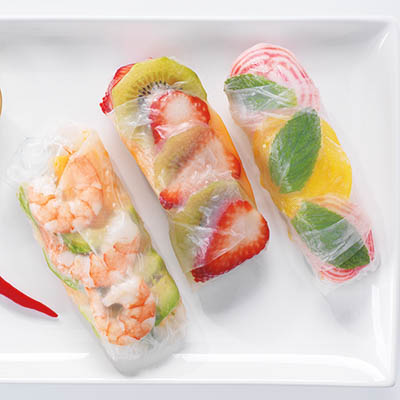 PRAWN, MANGO AND AVOCADO SALAD ROLLS
Ingredients
Serves
12 lg prawn in shell (21/25 size)
2 oz (60 g) dried bean vermicelli noodles
3 tbsp (45 ml) rice vinegar
1 tsp (5 ml) sriracha sauce or garlic chili paste
X 8-inch (20 cm) rice-paper rounds, plus more in case of tearing
48 cilantro sprigs, about 1 bunch, cleaned and dried well
48 mint leaves, from about 1 bunch
1 to 2 cucumbers, peeled, cored and cut into ⅛ -inch thick matchsticks
green onions, cut into 3-inch (7.5 cm) julienne strips
1 lb (500 g) firm ripe mango, peeled, pitted and cut into ¼-inch (0.5 cm) matchsticks
1 to 2 med ripe avocados, peeled, pitted and thinly sliced
4 tbsp (60 ml) Japanese mayonnaise
Instructions
Bring a medium saucepan of salted water to a boil. Add prawns, lower heat and poach at a low simmer, uncovered, until just cooked though, about 3 to 4 minutes. Transfer to an ice water bath for a couple minutes, drain and pat dry. Peel and cut in half lengthwise, deveining if necessary.
Bring another medium saucepan of water to a boil and add noodles. Cook until just tender, about 3 minutes. Drain in strainer and rinse under cold water. Drain well. Place into a mixing bowl. In a large bowl, stir together vinegar, sugar, salt and sriracha until sugar is dissolved. Add noodles and toss to coat well.
Place a clean tea towel or a double thickness of paper towel on a work surface. Fill a shallow baking pan with warm water. Soak a rice paper round in warm water until pliable, about 5 to 10 seconds. Carefully transfer to tea towel or paper towel lined work surface.
Arrange 3 prawn halves, cut sides up, in a row across middle bottom third (the part nearest you). Spread a small handful, 3 tbsp (45 ml) marinated noodles on top of shrimp and arrange 3 cilantro sprigs, 3 mint leaves, 6 cucumber matchsticks, 6 green onion strips, 6 to 8 mango matchsticks, and a few avocado slices horizontally on top of noodles. Spread about a tsp of the Japanese mayonnaise over top
Fold bottom of rice paper over filling and begin rolling up tightly, stopping at halfway point. Arrange 3 more mint leaves, 3 cilantro sprigs, and mango or avocado along crease, then fold in ends and continue rolling.
Transfer roll, seam side down, to a plate and cover with dampened paper towels. Repeat making 7 more rolls in the same manner and serve with Spicy Lime Dipping Sauce or any other desired sauce.
Drink Pairings