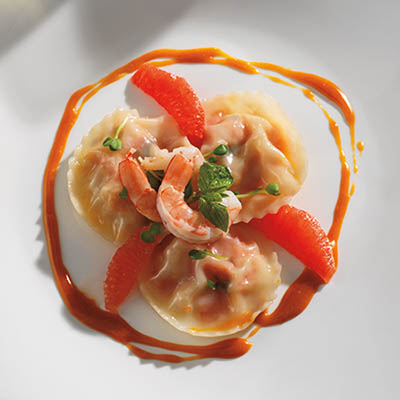 PRAWN AND GRAPEFRUIT RAVIOLI WITH PINK GRAPEFRUIT BEURRE BLANC
Ingredients
Serves 20 ravioli
PRAWN AND GRAPEFRUIT RAVIOLI:
3 tbsp (45 ml) unsalted butter
1 tbsp (15 ml) minced shallots
1 lb (500 g) shelled and deveined small prawns
pinch of red pepper flakes
2 tbsp (15 ml) chopped fresh basil, divided
2 oz (60 ml) dry white vermouth
2 to 3 tbsp (30 to 45 ml) cornmeal
1 pink grapefruit, segmented, for garnish
1 package of wonton wrappers (40-50 wonton wrappers)
½ cup (125 ml) fresh grapefruit juice
1 tbsp (15 ml) dry white vermouth
¾ cup (180 ml) cold unsalted butter, cut into 12 pieces
salt and freshly ground white pepper, to taste
Instructions
Melt butter over medium-high heat in a large frying pan. Add shallots and cook until soft and translucent, about 3 minutes. Add prawns and cook for 2 minutes stirring occasionally. Reserve a few prawns for garnish.
Add garlic, red pepper flakes and 1 tbsp (15 ml) basil and cook for about 1 minute or until fragrant, stirring occasionally. Add vermouth and cook for about 4 minutes or until reduced by half.
Remove prawns from pan and set aside. If still too much liquid, cook until reduced to a glaze. Pour over prawns and refrigerate until ready to use.
Line a baking sheet with parchment paper and sprinkle evenly with cornmeal.
To make RAVIOLI: Take one wonton wrapper and set on a dry cutting board. Add 1 tbsp (15 ml) prawn filling. Using a pastry brush, lightly brush water all around exposed dough, add a second wonton wrapper on top and press to remove air and seal. Using a ravioli cutter, cut the desired shape and place ravioli on baking sheet. Repeat procedure until all the filling is used. Cover ravioli with a dry cloth and cook, or freeze until ready to use.
To make GRAPEFRUIT BEURRE BLANC: Combine grapefruit juice and vermouth in small, heavy non-reactive saucepan. Bring to a low boil and cook until liquid is reduced to about 1 tbsp (15 ml). Remove pan from heat and using a whisk, beat in 1 piece of butter, then a second piece.
Return pan to a very low heat and whisk in remaining butter, one piece at a time. Remove from heat and whisk in salt and pepper to taste. Cover and keep warm while preparing ravioli.
Fill a large saucepan with water and bring to a boil. Add 1 tbsp (15 ml) salt and ravioli. Cook ravioli for about 3 minutes, or until it floats. Remove with a slotted spoon, drain well and transfer to serving plates or a platter.
Pour beurre blanc around and over the ravioli, and garnish with reserved prawns, grapefruit segments and remaining chopped basil.
Drink Pairings