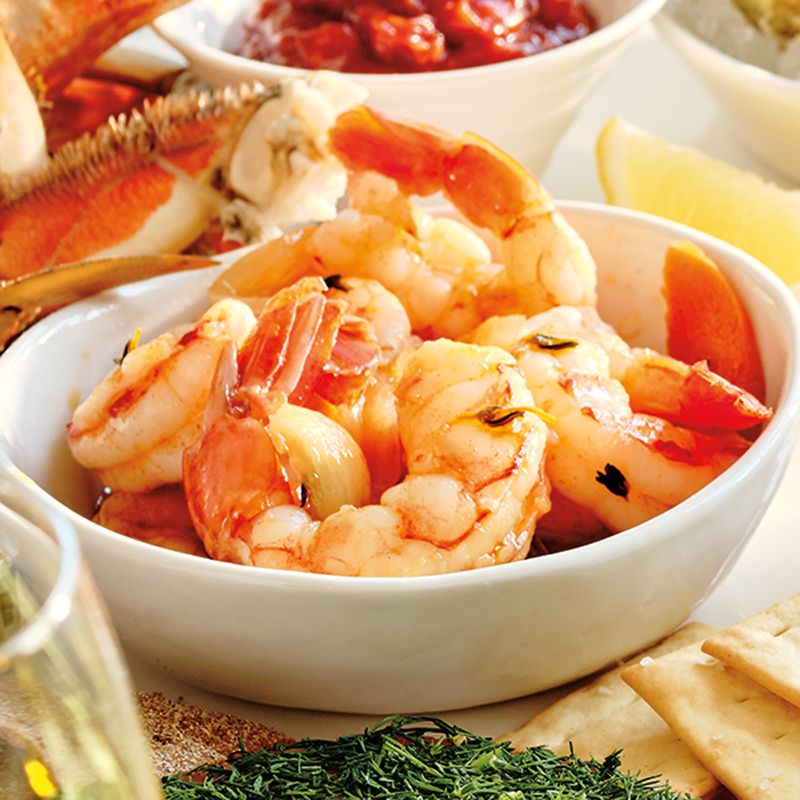 Ingredients
Serves 4 to 6
¾ cup (175 ml) extra-virgin olive oil
1 small carrot, peeled, sliced
1 small shallot, thinly sliced
6 whole black peppercorns
½ tsp (2.5 ml) kosher salt, plus extra for boiling
½ cup (125 ml) white wine vinegar
1 lb (454 g) raw medium-sized prawns, peeled and deveined
Instructions
In a small saucepan, combine oil, garlic, carrot, shallot, thyme, bay leaf, peppercorns and salt. Warm over medium-low heat until shallots are soft, about 5 minutes. Remove from heat and add vinegar. Let mixture cool to room temperature.
Prepare an ice bath. Blanch prawns in a pot of salted boiling water for 2 to 3 minutes, or until fully cooked through and opaque. Remove prawns and shock in ice bath, then remove and drain on a paper towel.
Place prawns in a non-reactive container and pour oil mixture over. Cover and marinate in refrigerator overnight. To serve, remove thyme, bay leaf and peppercorns from marinade and transfer prawns to a bowl. Top with marinating oil, garlic, carrot and shallot and serve with bread. Will keep for up to 3 days in refrigerator in a sealed container.
Drink Pairings