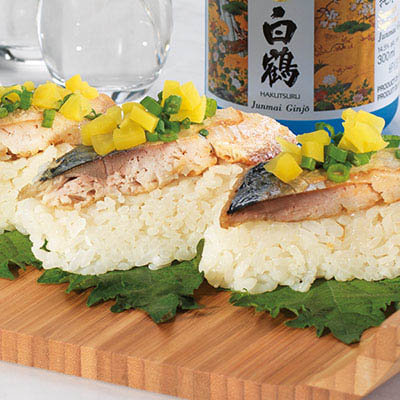 Ingredients
Serves 2 to 4
2 tbsp (30 ml) freshly grated ginger
1 tsp (5 ml) salt, divided
2 tbsp (30 ml) rice vinegar
2 fresh mackerel (saba) fillets, deboned
¾ cup (175 ml) sushi rice
3 tbsp (45 ml) chopped green onions (optional)
2 tbsp (30 ml) chopped Japanese pickled daikon (optional)
Instructions
In a small saucepan, bring ginger, ½ tsp (2.5 ml) salt, sugar and rice vinegar to a boil. Switch to low heat, cover and let simmer for about 1 minute. Remove from heat and allow to cool to room temperature.
Season mackerel fillets with remaining ½ tsp (2.5 ml) salt on both sides and allow to rest for 15 minutes. Pat dry and grill on high heat until done or pan fry about 3 to 4 minutes per side.
Rinse and strain rice a couple of times. In a small saucepan bring rice and 1 cup (250 ml) water to a boil, then cover and simmer over low heat for about 20 minutes, or until all water is absorbed. Alternatively, cook rice as per package directions. Transfer steamed rice to bowl and pour ginger dressing over it. Using a spatula, cut through rice and gently turn over to help rice cool as it incorporates dressing.
Place a piece of plastic wrap, roughly 16-in (40 cm) wide, on a clean surface. Place 1 mackerel fillet in middle, skin side down. Spoon about ½ of steamed rice over fish to completely cover it. Wrap tightly with plastic wrap to shape into thick bar. Repeat step with second mackerel fillet.
To serve, remove plastic wrap and cut diagonally. Garnish with chopped green onions and pickled daikon as desired.
Drink Pairings