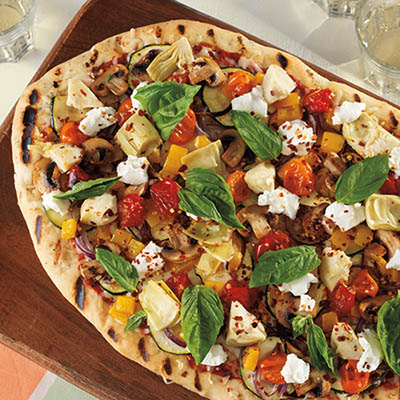 PRIMAVERA FLATBREAD WITH GARLIC HERB CRUST
Ingredients
Serves 4
2½ cups (625 ml) all-purpose flour
1 x 7 g package instant or quick-rise yeast
1 tsp (5 ml) dried oregano
½ tsp (2 ml) dried rosemary
1 garlic clove, finely minced
½ tsp (2 ml) granulated sugar
1 cup (250 ml) warm water, about 130 F (50 C)
2 tbsp (30 ml) olive oil, divided
vegetable oil spray or olive oil for brushing pizza crust
3 garlic cloves, thinly sliced
½ red onion, thinly sliced
1 red or yellow bell pepper, cored, seeded and cut into ½-in (1.25 cm) dice
1 small zucchini, thinly sliced
1 cup (250 ml) sliced fresh mushrooms
1 cup (250 ml) quartered, canned artichoke hearts, drained
1 tsp (5 ml) dried oregano
2 cups (500 ml) Marinara Sauce
1 cup (250 ml) shredded Italian cheese mixture or mozzarella cheese
6 to 8 cherry tomatoes, halved
4 oz (120 g) goat's cheese, crumbled
6 to 8 fresh basil leaves
½ tsp (2 ml) crushed red pepper flakes
Instructions
In a large mixing bowl, add 2 cups (500 ml) flour, yeast, basil, oregano, rosemary, garlic, sugar and salt. Gradually stir the warm water and 2 tbsp (30 ml) olive oil into the flour mixture with a wooden spoon. Stir in enough of remaining flour to make a soft dough. Knead on lightly floured surface until smooth and elastic, about 5 to 10 minutes. Cover and let rest on floured surface 10 minutes. Alternatively, this can be done in an electric mixer with a dough hook attachment.
Preheat barbecue to 450 F (230 C).
Roll or press dough into a 12 or 16-in (30 to 40 cm) circle. Spray lightly or brush with vegetable oil spray or olive oil and allow dough to sit 10 minutes while the grill preheats.
To prepare TOPPINGS: Heat 1 tbsp (15 ml) olive oil in a large frying pan over medium-high heat. When hot, add garlic slices, red onion, bell pepper, zucchini, mushrooms and artichoke hearts. Sauté for 2 minutes and add oregano. Remove from the heat and set aside.
When grill is hot, place flatbread dough, oiled-side down, on grill and cook, covered, 3 to 7 minutes or until underside has grill marks is lightly browned, and the top has started to bubble. Watch to make sure temperature is not too high, as all barbecues are different.
Spray top with vegetable oil spray or brush with olive oil and flip flatbread over. Grill other side 3 to 4 minutes until lightly browned. Remove flatbread dough from grill and transfer to a large wooden board or platter. Spread with Marinara Sauce (recipe to follow), cheese and sautéed vegetables. Top with cherry tomatoes, goat's cheese and basil leaves, then sprinkle with crushed red pepper flakes. Return flatbread to grill, reduce heat to medium and cook another 3 to 5 minutes, or until cheeses have melted. Remove to a cutting board and cool slightly before slicing and serving.
Drink Pairings