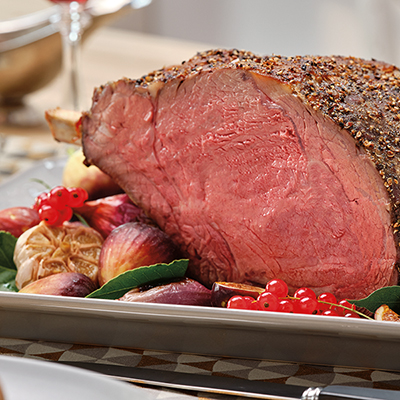 PRIME RIB WITH PEPPERCORN CRUST
Ingredients
Serves 6
3-rib prime rib roast, about 7 lbs (3.1 kg)
½ cup (125 ml) Dijon mustard
3 tbsp (45 ml) kosher salt
¼ cup (60 ml) crushed mixed-colour or black peppercorns
2 cups (500 ml) beef demi-glace or jus, warmed *
½ cup (125 ml) prepared horseradish cream
roasted heads of garlic, roasted shallots, figs and/or bay leaves, for garnish (optional)
* This recipe does not produce any drippings, so use purchased or previously prepared demi-glace or jus.
Instructions
Preheat oven to 250 F (130 C). Coat rib roast with Dijon, then coat with salt and pepper.
Place roast in a heavy roasting pan, bone side down. Roast until internal temperature reaches between 125 F (52 C) and 130 F (54 C) for a perfect medium-rare roast, or 130 F (54 C) to 135 F (57 C) for medium, about 3 to 4 hours.
Remove from oven and allow to rest for 30 minutes to 1 hour.
Preheat oven to 500 F (260 C). Put roast in oven for 5 to 10 minutes, or until deep golden brown. Remove from oven and slice (no need to rest again, as browning time is short). Serve with demi-glace or jus and horseradish cream, and garnish as desired with roasted garlic, roasted shallot, figs and/or bay leaves.
Drink Pairings