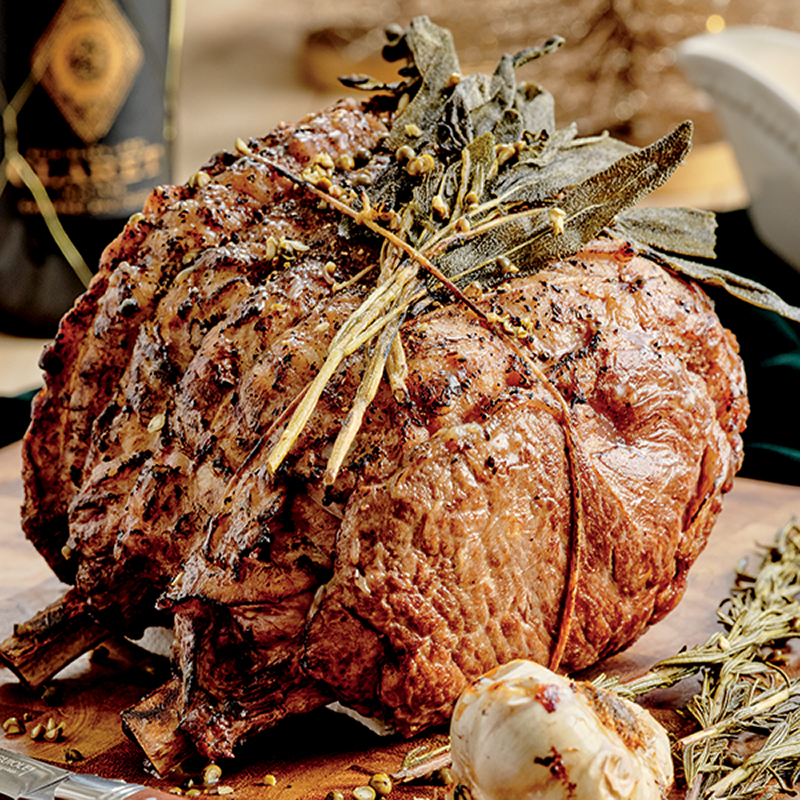 Prime Rib Roast with Cognac & Green Peppercorn Sauce
Ingredients
Serves 4 - 6
4 lb (2 kg) bone-in prime rib roast
sea salt and freshly ground black pepper, to taste
6 to 8 large sprigs fresh rosemary
1 onion, unpeeled, quartered
2 heads garlic, halved crosswise
2 tbsp (30 ml) green peppercorns in brine, drained
3 tbsp (45 ml) salted butter
FOR THE COGNAC AND GREEN PEPPERCORN SAUCE
4 tbsp (60 ml) salted butter
4 large garlic cloves, crushed
3 tbsp (45 ml) green peppercorns in brine, drained, finely chopped, divided
1 cup (250 ml) crème fraîche or whipping cream
2 tbsp (30 ml) lemon juice
3 tbsp (45 ml) strong Dijon mustard
Instructions
Arrange oven rack in lower third of oven. Preheat oven to 500 F (260 C). Generously season beef with salt and pepper on all sides. Rub sage with a little olive oil and using kitchen twine, tie it to top of beef. Make a bed of rosemary in bottom of a medium-sized heavy roasting pan. Place beef over rosemary, bone side down. Scatter onion quarters and garlic head halves into pan, sprinkle with green peppercorns and dot top of beef with butter. Season everything well with salt and pepper and transfer to oven. Roast for 30 minutes, then reduce heat to 325 F (170 C) and continue roasting for another 75 to 90 minutes for medium-rare. To test for doneness, insert a meat thermometer into centre of roast; it should read 130 F (54 C). Transfer roast to a cutting board, leaving rosemary, onion, garlic and peppercorns in pan and reserving for sauce. Cover roast loosely with foil and allow to rest while making sauce.
To make Cognac & Green Peppercorn Sauce, in a medium saucepan, combine butter and garlic over medium heat. Stir in half the green peppercorns and cook until garlic is soft, caramelized and fragrant, about 5 minutes. Add cognac, increase heat to medium-high and cook until reduced by half, about 3 minutes. Add reserved rosemary, onion, garlic and any liquid and peppercorns from roasting pan. Stir in crème fraîche or cream, lemon juice and mustard. Lower heat to medium and cook for about 7 minutes, crushing onions and garlic with back of a spoon. Strain sauce through a fine mesh sieve into a clean saucepan, pressing hard on vegetables to extract as much flavour as possible. Discard contents of sieve. Add remaining chopped green peppercorns to sauce, return to a low heat and keep warm while slicing roast.
To serve, remove kitchen twine and sage from roast. Slice thinly and transfer to a serving platter. Season lightly with salt and pepper and garnish with roasted sage. Transfer Cognac & Green Peppercorn Sauce to a gravy boat and serve alongside roast.
Drink Pairings