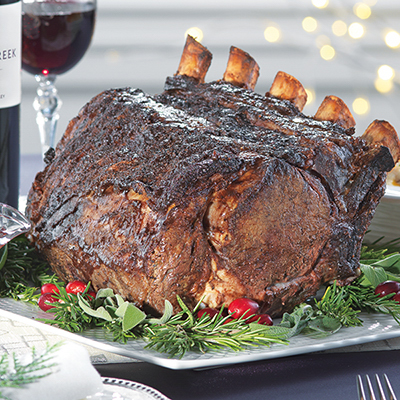 PRIME RIB ROAST SERVED WITH RED WINE CARROT GRAVY
Ingredients
Serves 8 to 10
8 lb (3.6 kg) bone-in prime rib roast
2 tbsp (30 ml) Dijon mustard
2 tsp (10 ml) kosher salt, plus extra
2 tsp (10 ml) pepper, plus extra
1 bottle (750 ml) red wine
2 medium carrots, peeled and chopped
1 cup (250 ml) water, plus extra if needed
1 tbsp (15 ml) unsalted butter
Instructions
Place prime rib, in a large foillined roasting pan and set aside at room temperature for 1½ hours.
With oven rack in middle position, preheat oven to 500 F (260 C).
Brush roast all over with mustard before seasoning with salt and pepper. Place back in roasting pan, fat side up, and roast for 40 minutes. Turn oven off and do not open for 2 hours. Do not let any heat escape. After this, roast should register 135 F (57 C) on an instant read thermometer inserted in thickest part of meat. Remove to a cutting board and let rest while preparing gravy.
In a medium saucepan over medium-high heat, bring wine to a boil. Reduce to ¾ cup (175 ml). Set aside.
In a small saucepan over medium-low heat, bring carrots, water and pinch of salt to a simmer. Cover and cook until carrots are tender, about 8 minutes. Transfer carrots and any extra liquid to a blender and purée until smooth. Add extra water 1 tbsp (15 ml) at a time if purée is too thick to blend.
Place reduced wine back over medium heat and bring just to a simmer. Remove from heat and whisk in carrot purée, 1 tbsp (15 ml) at a time, until sauce has thickened as desired. Whisk in butter and season to taste.
Cut bones off roast and carve meat into ½-in (1.25 cm) thick slices. Cut in between bones and serve them on side. Serve with gravy and other desired sides.
Drink Pairings