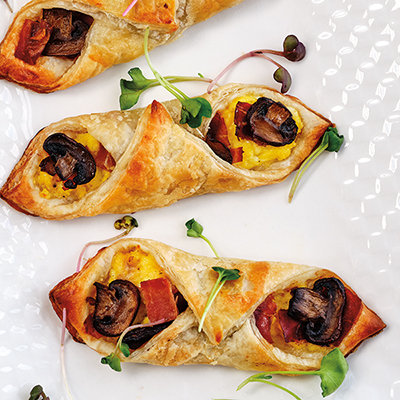 PROSCIUTTO, EGG AND MUSHROOM PUFF PASTRY PARCELS
Ingredients
Serves 6
6 eggs, scrambled to your liking
6 slices prosciutto, cut into bite-sized squares
1 cup (250 ml) sliced, cooked mushrooms
1 cup (250 ml) shredded Fontina cheese
Instructions
Preheat oven to 425 F (220 C). Line a baking sheet with parchment paper.
On a lightly floured surface, roll out puff pastry into a 10 x 15-in (25 x 38 cm) rectangle; feel free to trim sides if they are not straight. Cut into six 5 x 5-in (12 x 12 cm) squares. On each square, place a heaping spoonful of scrambled egg, arranged in a line, from the bottom left corner to top right corner. Top each with prosciutto and mushrooms and sprinkle over evenly with cheese and pepper. Lift top left and bottom right corners of each puff pastry square and wrap around filling to overlap slightly, like a hug.
In a small bowl, whisk together egg yolk and milk. Using a pastry brush, brush the top of each parcel with egg wash. Bake until golden brown, about 10 to 12 minutes.
Drink Pairings