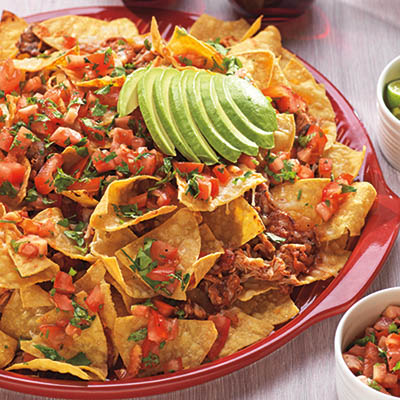 PULLED CHICKEN AND BLACK BEAN NACHOS
Ingredients
Serves 8
4 ripe tomatoes, cored and finely diced
½ small yellow onion, finely minced
½ cup (125 ml) chopped cilantro
½ red or green jalapeño pepper, seeded and finely minced
2 tbsp (30 ml) extra-virgin olive oil
salt and freshly ground black pepper, to taste
½ cup (125 ml) Mexican crema or sour cream
salt and freshly ground black pepper, to taste
2 tbsp (30 ml) olive oil, plus extra if needed
10 boneless, skinless chicken thighs
1 large sweet onion, diced
4 large garlic cloves, smashed and minced
2 tsp (10 ml) brown sugar
2 tsp (10 ml) each ground cumin, ground coriander, oregano and smoked paprika
2 tbsp (30 ml) red wine vinegar
28 oz (796 ml) can fire-roasted diced tomatoes, including juice
1 canned chipotle chili in adobe sauce, minced, about 1 tbsp (15 ml)
14 oz (398 ml) can red kidney or black beans, rinsed and drained
20 oz (600 g) bag unseasoned tortilla chips
1 ripe but firm Haas avocado, peeled, pitted and sliced
1 cup (250 ml) grated Oaxaca or Monterey Jack cheese
chopped cilantro, for garnish
Instructions
To make PICO DE GALLO: Combine all ingredients in a bowl. Gently fold together. Set aside for flavours to blend. Makes 2 cups (500 ml).
To make AVOCADO CREMA: Peel avocado and coarsely chop. Place in a blender along with Mexican crema and lime juice. Whirl to blend, scraping down sides of bowl occasionally. Continue processing until very smooth. Transfer to a squeeze tube and refrigerate. Makes ¾ cup (175 ml).
To make PULLED CHICKEN: Preheat oven to 350 F (180 C). Heat oil in a large heavy, oven-safe saucepan with a tight-fitting lid over medium-high heat. Add chicken, a few pieces at a time being careful not to overcrowd. Sauté, uncovered, until golden. Remove to a separate dish and repeat until all the chicken is lightly golden.
Add onion to pan and sauté until soft and clear. Add a splash more oil if needed. Stir in garlic and sauté for 1 more minute. Stir in sugar and spices. Deglaze pan with vinegar. Add tomatoes and chipotle chili and stir to mix. Return chicken to saucepan, tucking pieces into mixture in an even layer. Bring to a low simmer. Cover with lid and bake for 35 to 40 minutes.
Remove saucepan from oven. Leave oven at 350 F (180 C). Using tongs, remove chicken thighs to a large bowl and let cool until you can handle with your fingers. Shred chicken with a fork and return to sauce in saucepan along with beans. Return to the stove and gently simmer to warm beans. Taste and add more seasonings as desired.
Scatter ⅔ of the chips on a large baking tray layering with warm chicken and bean mixture and grated cheese. Add more chips and cheese. Bake tray in preheated oven until cheese is golden and bubbly, about 10 to 12 minutes. Remove and sprinkle with cilantro. Serve with Pico de Gallo, sliced avocado and Avocado Crema.
Drink Pairings