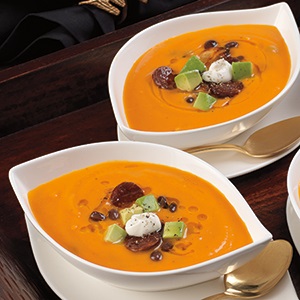 PUMPKIN, CHORIZO AND BLACK BEAN SOUP
Ingredients
Serves 4
1 tbsp (15 ml) grape seed oil
4 oz (125 g) cured chorizo, thinly sliced
2 garlic cloves, thinly sliced
3 medium tomatoes, stemmed and chopped
2 cups (500 ml) low-sodium chicken stock
1 lb (500 g) pumpkin or butternut squash, peeled and chopped
salt and freshly ground black pepper, to taste
1 cup (250 ml) cooked black beans, divided
1 avocado, peeled and diced, for garnish
¼ cup (60 ml) sour cream, for garnish
Instructions
In a medium saucepan, heat oil over medium heat. Add chorizo and garlic and cook, stirring occasionally, until golden and crisp, about 4 minutes. Transfer to a plate and set aside.
In same saucepan, add tomatoes, stock, pumpkin and salt and pepper. Bring to a simmer over medium heat and cook, slightly covered, until pumpkin is tender, about 12 minutes.
Remove saucepan from heat and let cool slightly. Using a hand-held immersion blender or food processor, blend until smooth. Warm soup over medium heat before stirring in three quarters of the black beans and cook until heated through, about 3 minutes.
Divide soup among warmed bowls and top with reserved chorizo, garlic and remaining black beans. Garnish with diced avocado and a dollop of sour cream, if desired. Serve warm.
Drink Pairings