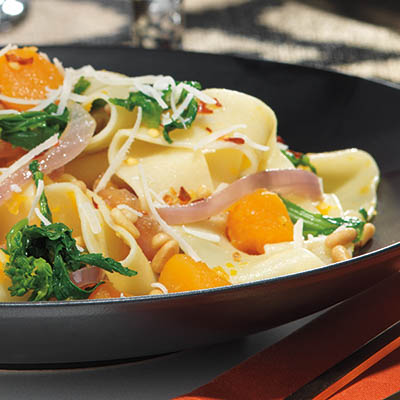 Ingredients
Serves 4
½ lb (250 g) rapini or broccolini, rinsed, cut into 1-in (2.5 cm) pieces
4 tbsp (60 ml) unsalted butter, divided
1 tbsp (15 ml) extra-virgin olive oil
1 large red onion, thinly sliced lengthwise
¼ tsp (1 ml) dried red chili flakes
1 lb (500 g) dry pappardelle
½ small sugar pumpkin, about 2 lbs (1 kg), peeled, seeded, cut into ½-in (1.25 cm) dice
2 tsp (10 ml) thyme leaves
1 cup (250 ml) pecorino cheese, grated, plus more for serving
½ cup (125 ml) toasted pine nuts
Instructions
Bring a saucepan of water to a boil. Add rapini or broccolini and blanch for 2 minutes, then transfer to an ice-water bath. Drain well and set aside.
In a large skillet over medium heat, melt 2 tbsp (30 ml) of butter with olive oil. Add onion and chili flakes and sauté, stirring occasionally, until soft, about 15 minutes. Transfer to a plate and set aside.
Bring a large pot of salted water to a boil. Add pasta and cook according to package directions. Drain, reserving 1 cup (250 ml) of cooking water. Return pasta to pot.
While pasta is cooking, return skillet over medium heat and add pumpkin, thyme sprigs and 1½ cups (375 ml) water to skillet. Cover partially and cook, stirring occasionally, until pumpkin is very soft and most water has evaporated, about 6 to 8 minutes.
To hot pasta, add onion, pumpkin, thyme leaves, pecorino, remaining butter, reserved cooking water and broccolini. Toss to coat, adding more cooking water as needed to loosen sauce. Season. Garnish with toasted pine nuts and serve with extra pecorino cheese.
Drink Pairings