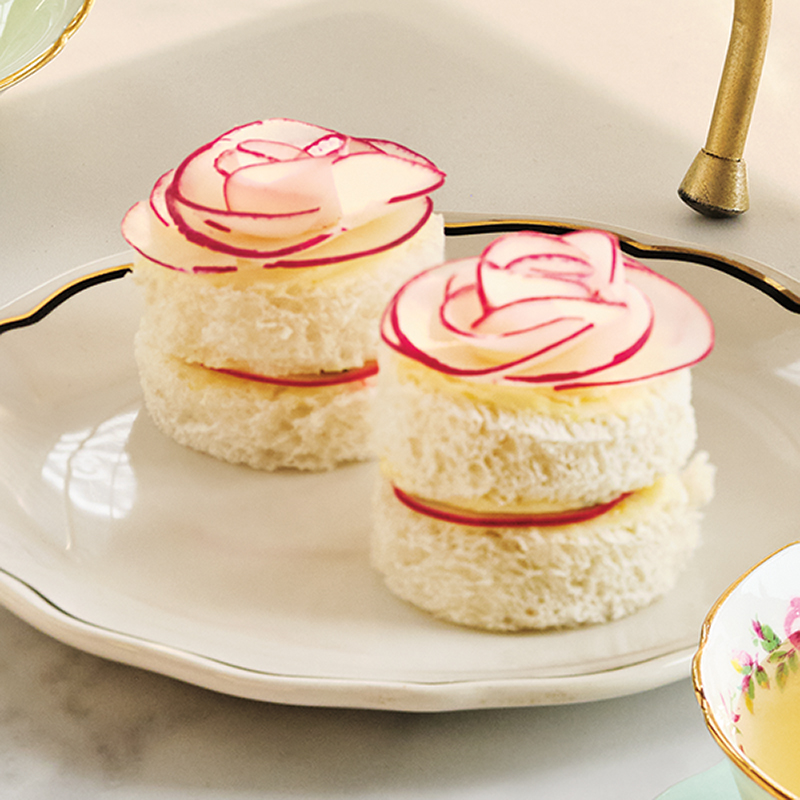 Ingredients
Serves 8 sandwiches
¼ cup (60 ml) unsalted butter, room temperature
½ tsp (2.5 ml) lemon zest
½ tsp (2.5 ml) Maldon sea salt flakes
8 slices white sandwich bread
½ cup (125 ml) flat-leaf parsley leaves
Instructions
In a small bowl, stir together butter, lemon zest and salt until well combined. Set aside.
Slice radishes paper thin with a mandoline. You will need about 60 slices total. Place on a paper towel-lined plate and blot dry.
Using a 1½ or 2-in (3.75 or 5 cm) round cookie cutter, cut 2 rounds out of each slice of bread, avoiding crust.
To assemble, lightly butter half the bread rounds with a thin swipe of lemon butter. Top with a radish and a leaf or two of parsley. Lightly butter one side of another bread round, then place butter side down on top of parsley. Repeat with remaining bread rounds. Generously butter top of sandwich with more lemon butter; this is where radish rose will be placed. Take 6 radish slices and cut them in half so that you have 12 half circles. Fan out 4 radish half circles slightly so pieces are staggered a bit side by side. Take one end and start rolling. Place on top of buttered tea sandwich. Take 4 more radish half circles and fan out slightly. Place them around one side of the center of the radish rose. Take the last 4 half circles and place them around the other side. Repeat with remaining radish slices.
Transfer to a serving plate and serve immediately, or cover sandwiches with plastic wrap and let stand at room temperature for up to 2 hours.
Drink Pairings