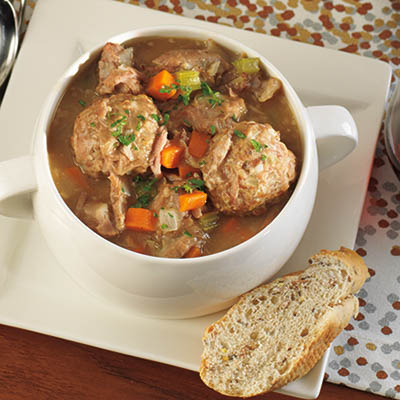 RAGOUT DE BOULETTES ET DE PATTES DE COCHON (MEATBALL STEW WITH PORK HOCKS)
Ingredients
Serves 6 to 8
4 medium onions, peeled and halved
4 fresh pork hocks halved with the skin on, 7½ lbs (3.5 kg)
1 tsp (5 ml) juniper berries
2 shallots, finely minced
1 large garlic clove, minced
2 lbs (1 kg) lean ground pork
¼ cup (60 ml) fine breadcrumbs
1 tbsp (15 ml) Dijon mustard
¾ cup (175 ml) all-purpose flour
3 tbsp (45 ml) reserved pork fat or olive oil
1 medium onion, coarsely chopped
2 carrots, peeled and finely diced
1 stalk celery, finely chopped
4 cups (1 L) reserved pork hock broth
Instructions
To make PORK HOCKS: Heat a large stockpot over medium heat. Add olive oil and brown cut sides of the onions for about 5 minutes. Add garlic, pork hocks, spices and herbs.
Add enough water just to cover and bring to a boil. Skim and allow to simmer 2½ to 3 hours or until the meat is fork tender. During cooking add more water to keep the hocks covered. Use a slotted spoon to remove the hocks. Place in a large dish and cool. Degrease the broth, reserving 3 tbsp (45 ml) of fat, discard remaining fat. Strain broth through a sieve, discarding aromatics. There should be at least 4 to 6 cups (1 to 1.5 L) broth set aside for the gravy.
When hocks are cool enough to handle, debone and separate the meat (keeping as many large chunks as possible) from the skin, discarding the skin.
To make MEATBALLS: Preheat oven to 400 F (200 C). Line two baking sheets with parchment paper. In a bowl, add all ingredients. Mix thoroughly with hands until well combined. Form meatballs with lightly oiled hands and spread on baking sheets, about 7 dozen meatballs. Bake until cooked about 15 minutes, turning over halfway through. Remove and cool.
To make GRAVY AND STEW: Heat a saucepan over medium heat. Add flour and stir continuously until toasted and golden brown. Remove from heat and immediately transfer to a bowl to cool.
In a large saucepan, heat pork fat over medium heat. Add onion, garlic, carrot and celery and sauté until soft. Add broths, bring to a boil and simmer for 5 minutes. Slowly whisk in toasted flour and stir constantly until smooth. Lower heat to simmer 5 minutes. Strain gravy through a sieve to make a refined sauce or keep as is with the vegetables. Add meatballs and reserved pork meat. Continue to cook 10 minutes to heat through. Serve with mashed or steamed potatoes.
Drink Pairings