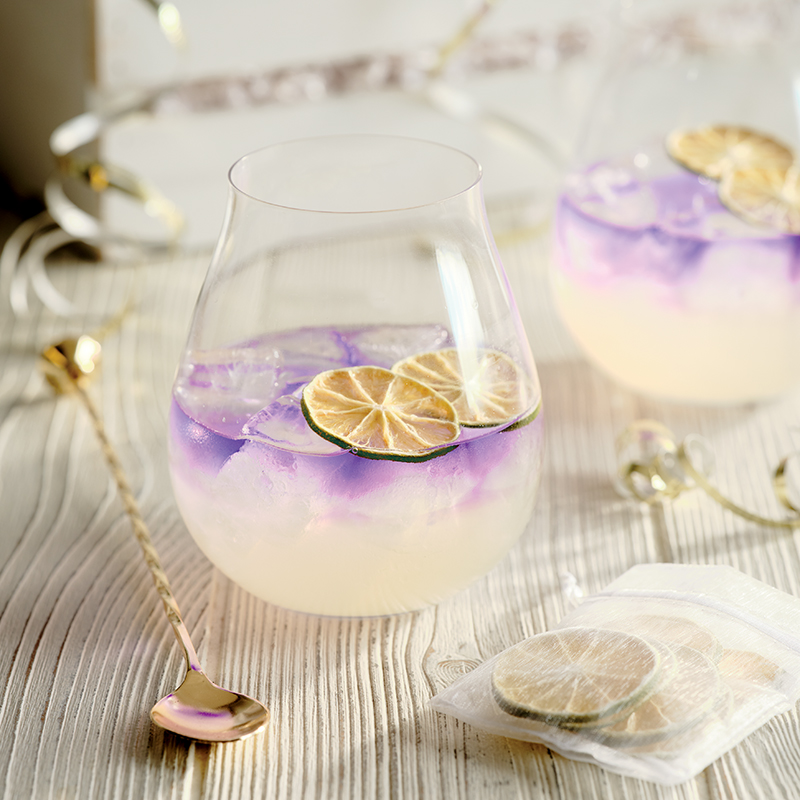 Ingredients
Serves 1
3 oz (90 ml) non-alcoholic ginger beer
¾ oz (22 ml) freshly squeezed lime juice
½ oz (15 ml) Honey Syrup*
1½ oz (45 ml) Victoria Distiller's Empress 1908 Gin
Dehydrated Lime Wheels**, for garnish
Instructions
In a wine glass, gently stir together ginger beer, lime juice and Honey Syrup. Add ice to glass. In a mixing glass, stir gin with cubed ice to chill, then strain gin into wine glass to layer (float) on top of cocktail. Garnish with Dehydrated Lime Wheels. 
*To make Honey Syrup, combine 1 cup (250 ml) honey with ½ cup (125 ml) hot water. Stir to dissolve and allow to cool before using. Makes 12 oz (340 ml); will keep for up to 2 weeks in refrigerator.
**To make Dehydrated Lime Wheels, slice 5 or 6 limes into ⅛-in (0.25 cm) thick wheels. Transfer to a parchment-lined baking sheet and bake at lowest oven temperature, on convection if possible, until completely dry, about 4 to 5 hours. For even drying without convection, rotate baking sheets every 1 to 2 hours. Store in an airtight container; will keep indefinitely in a cool, dark place.
Featuring