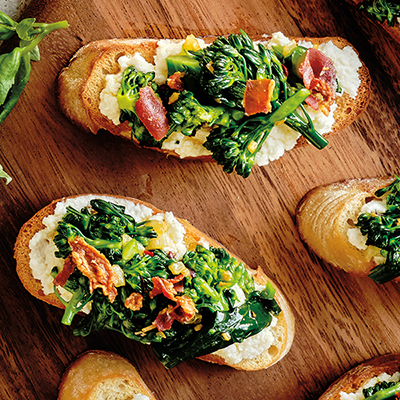 Rapini, Pancetta & Ricotta Crostini
Ingredients
Serves 4 to 6
3 paper-thin slices pancetta*
3 to 4 stems rapini or broccolini
2 tbsp (30 ml) extra-virgin olive oil, divided
1 mini baguette, cut into 1-in (2.5 cm) slices
salt and pepper, to taste
1 pinch chili flakes, or to taste
Instructions
Preheat oven to 375 F (190 C). Lay pancetta slices on a baking sheet and bake for about 5 minutes, or until crisp. Remove from oven and allow to cool on a wire rack or plate, reserving baking sheet with pancetta fat for step 3. Keep oven on for toasting baguette.
Prepare an ice bath. Bring a pot of salted water to a boil and blanch rapini or broccolini until cooked, about 1 minute, then transfer immediately to ice bath. Once cool, drain and pat dry, then roughly chop and set aside.
Place baguette slices on baking sheet used for pancetta. Drizzle with 1 tbsp (15 ml) olive oil and bake until toasted and golden brown, about 5 minutes.
In a small bowl, season ricotta with salt and pepper, to taste.
Heat remaining 1 tbsp (15 ml) oil in a sauté pan over medium heat. Add garlic and cook until fragrant but not browned, about 1 minute. Add chili flakes and rapini and sauté for 1 minute.
To assemble, spread about 1 tbsp (15 ml) ricotta on each bread slice. Top evenly with rapini, then crumble pancetta and sprinkle over each.
* Ask for paper-thin slices at your deli counter.
Drink Pairings