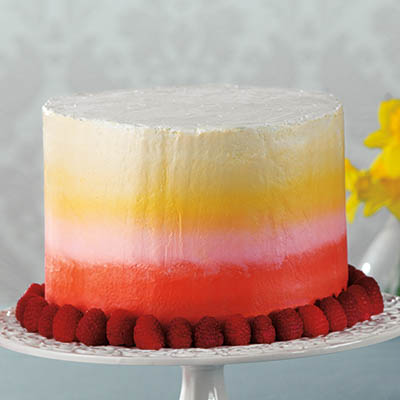 RASPBERRY AND LEMON CHAMPAGNE CAKE
Ingredients
Serves 12
3¾ cups (925 ml) all purpose flour
2 tbsp (30 ml) baking powder
2 tbsp (30 ml) lemon zest
2¼ cups (560 ml) granulated sugar
6 large eggs, lightly beaten
2¼ cups (560 ml) Champagne or sparkling white wine
1½ cups + 2 tbsp (405 ml) unsalted butter, melted
1 tbsp (15 ml) vanilla extract
1 cup (250 ml) raspberry jam, divided
gel food colouring in 4 different colours
fresh raspberries, for garnish
1 cup (250 ml) egg whites, about 8 eggs
2½ cups (625 ml) granulated sugar
2 tsp (10 ml) vanilla extract
2 cups (500 ml) unsalted butter, cubed and at room temperature
Instructions
Preheat oven to 325 F (160 C). Lightly grease two 8-in (1.2 L) round cake pans with oil or butter and line bottom of each with a circle of parchment paper.
In a large bowl, whisk together flour, baking powder and salt.
In another bowl, using fingers, rub together lemon zest and sugar until well incorporated.
In a third bowl, whisk together eggs, Champagne, butter and vanilla extract. Add lemon sugar and stir to combine. Pour over flour mixture and whisk together until smooth. Divide batter evenly among prepared cake tins and bake until a wooden skewer inserted in center of each comes out clean, about 80 minutes. Allow cakes to cool in tins for 5 minutes before turning out onto a wire rack to cool completely.
Meanwhile, make one recipe of Swiss Buttercream (recipe follows).
When cakes have cooled, cut each in half horizontally to make four layers. Set aside nicest layer for top of cake. Place one layer on a cake board or platter and spread ⅓ of raspberry jam over it. Pipe or spread about 1 cup (250 ml) buttercream over jam. Repeat layering cake, jam and buttercream two more times. Position top cake layer and adjust as needed to ensure it is straight. Thinly spread remaining buttercream over entire cake to create a crumb coat. Refrigerate for at least 30 minutes.
Meanwhile, make another recipe of Swiss Buttercream. Divide buttercream into five bowls. Tint 4 of the bowls of buttercream using gel food colouring to creating a gradual colour transition, leaving one the natural colour.
Place cake on a turntable before starting to decorate. Take a large dollop of the lightest colour buttercream and place on top of cake. Smooth out with a small offset spatula, allowing some to hang over edge of cake.
Place darkest colour in a piping bag fitted with a large, plain round tip. Starting at the bottom of cake, pipe a ring of buttercream around cake. Add next colour to piping bag and pipe another ring or two around cake. Continue layering buttercream, in gradually lightening shades, into piping bag and piping around cake until top of cake is reached. If buttercream become too streaky with different colours, feel free to use a clean piping bag between colours. Don't worry about this step being perfect, simply aim to get an even amount of buttercream on all sides of cake.
Once cake is covered in bands of coloured buttercream, begin smoothing out. Start by holding a large offset spatula perpendicular to turntable. Rotate turntable holding spatula still just against buttercream to create an even coating. Make sure to completely clean your spatula every time turntable stops rotating. Take knife and continue to smooth out buttercream. Place knife lightly on cake with bottom edge touching turntable. As before, move turntable, not knife, rotating cake. Again, clean knife each time turntable stops rotating. If there are any holes or blemishes, carefully fix with some buttercream in corresponding colour. Smooth out top edge of cake with a small offset spatula and refrigerate cake for 30 minutes.
When ready to serve, transfer cake to a platter or cake stand and allow to reach room temperature, at least 1 hour. Garnish with fresh raspberries, if desired, and serve.
To make SWISS BUTTERCREAM: In a large, heatproof bowl, whisk together egg whites and sugar. Place bowl over a saucepan of simmering water, making sure base of bowl does not touch water. Continue to whisk until mixture registers 160 F (70 C) on an instant-read thermometer or until sugar dissolves. Immediately pour into bowl of a stand mixer fitted with whisk attachment and beat until a glossy meringue forms that holds stiff peaks and is at room temperature, about 10 minutes.
Beat in vanilla extract until well incorporated. With mixer running at medium speed, add butter one cube at a time, beating well after each addition. Once all butter has been incorporated, beat in salt. Buttercream should be thick, creamy and smooth. If not, place an ice bath under bowl of stand mixer while running.
Use buttercream immediately or refrigerate for up to 1 week in an airtight container. To use refrigerated buttercream, allow to reach room temperature before beating until smooth and spreadable. For best flavour and consistency, buttercream is best eaten at room temperature.
Drink Pairings