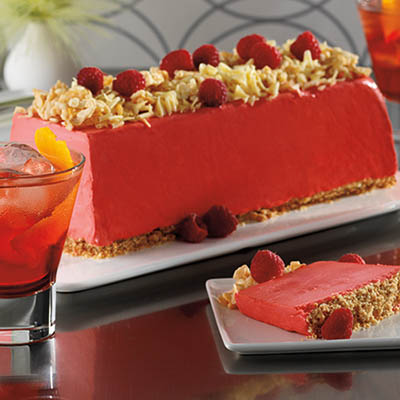 RASPBERRY CAMPARI FROZEN YOGURT CAKE
Ingredients
Serves 8 to 10
RASPBERRY CAMPARI FROZEN YOGURT FILLING:
3¾ cups (925 ml) fresh or thawed frozen raspberries
3 cups (750 ml) full fat plain yogurt
1½ cups (375 ml) granulated sugar
1½ tbsp (22 ml) orange juice
¾ cup (175 ml) vanilla wafer crumbs
½ cup (125 ml) unsalted butter, melted
WHITE CHOCOLATE CRUNCH TOPPING:
¾ cup (175 ml) chopped white chocolate, about 5 ½ oz (125-150 g)
2 tsp (10 ml) vegetable shortening
1 cup (250 ml) corn flakes
1 cup (250 ml) puffed rice cereal
1 cup (250 ml) raspberries, for garnish
white chocolate curls, for garnish
Instructions
To make FROZEN YOGURT: Combine raspberries, yogurt, sugar and Campari in a blender and purée on high speed until smooth. Pour through a fine-meshed sieve into a large mixing bowl, pressing on purée with a ladle or rubber spatula to strain out raspberry seeds. Stir in orange zest, juice and salt. Chill in refrigerator at least 3 hours.
Meanwhile, line a 12 x 4 x 3-in (30 x 10 x 8 cm) loaf pan with plastic wrap allowing for at least 2-in (5 cm) of overhang on all sides.
To make CRUST: Stir together wafer crumbs and butter until well combined. Set aside.
Transfer chilled raspberry yogurt mixture to ice cream machine and churn according to manufacturer's instructions. Transfer frozen mixture to prepared pan, smooth the top and freeze for 1 hour. Press crust crumbs evenly over top of frozen yogurt and fold over plastic wrap overhang to cover and seal. Freeze until frozen yogurt is firm, at least 5 hours, preferably overnight.
Meanwhile, make TOPPING: Line a large baking sheet with parchment paper and set aside. Place chocolate and shortening in a medium-sized, heatproof bowl. Warm 1-in (2.5 cm) of water in a medium-sized saucepan and bring to a simmer over medium heat. Rest heat-proof bowl on lip of saucepan and, stirring constantly with a rubber spatula, completely melt chocolate and shortening.
Remove bowl from heat and stir in corn flakes and puffed rice until evenly coated with chocolate mixture. Spread coated cereal onto paper-lined baking sheet and refrigerate until chocolate has hardened, about 1 hour. Once firm, break coated cereal into bite-sized pieces and set aside or refrigerate until ready to use.
To serve, unmould frozen yogurt cake onto a serving platter and peel off plastic. Garnish with white chocolate crunch topping, whole raspberries and white chocolate curls. Slice and serve frozen.
Drink Pairings