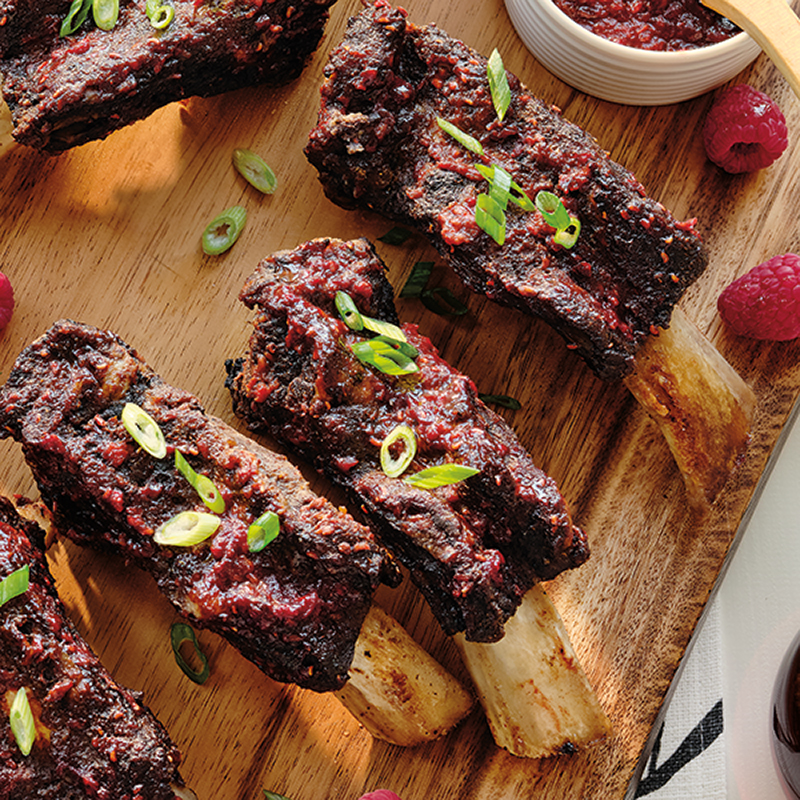 Raspberry Jalapeno Beef Ribs
Ingredients
Serves 4
5 lbs (2.27 kg) beef back ribs, cut into single bone portions
1 large yellow onion, thinly sliced
2 cups (500 ml) apple juice, divided
¼ cup (60 ml) + 3 tbsp (45 ml) raspberry jam, divided
½ cup (125 ml) red wine vinegar
¼ cup (60 ml) pickled jalapeño juice, from a jar
1 tbsp (15 ml) + 1 tsp (5 ml) kosher salt, divided
2 tbsp (30 ml) light brown sugar, divided
1 tsp (5 ml) ground coriander
2 tbsp (30 ml) sweet paprika
1½ tsp (7 ml) ground cumin
¾ tsp (4 ml) garlic powder
¾ tsp (4 ml) ground black pepper
1½ tsp (7 ml) dry mustard powder
¼ cup (60 ml) tomato paste
1 tsp (5 ml) chili powder
2 tbsp (30 ml) chopped pickled jalapeños
2 cups (500 ml) fresh raspberries, plus extra for garnish
vegetable oil, for grilling
2 green onions, sliced, for garnish
Instructions
Divide ribs between 2 large zip-top bags. In a medium bowl, mix together onion, ½ cup (125 ml) apple juice, ¼ cup (60 ml) jam, vinegar, jalapeño juice, 1 tbsp (15 ml) salt, 1 tbsp (15 ml) sugar and coriander until well combined. Divide evenly between bags with ribs, seal and shake to coat ribs in marinade. Refrigerate for at least 4 hours and up to 24 hours. Shake and rotate bags 2 or 3 times to ensure ribs are equally coated.
Preheat oven to 325 F (170 C). In a small bowl, whisk together paprika, remaining 1 tbsp (15 ml) sugar, cumin, garlic powder, pepper, mustard and remaining 1 tsp (5 ml) salt to make dry rub.
Remove ribs from marinade, reserving marinade, and pat dry with paper towel. Sprinkle dry rub all over ribs. Transfer ribs, meat-side up, to an 18 x 13-in (46 x 33 cm) rimmed baking sheet, or two 9 x 13-in (23 x 33 cm) rimmed baking sheets, in a single layer. Pour remaining 1½ cups (375 ml) apple juice into bottom of baking sheet(s), cover tightly with foil and transfer to oven. Bake until tender, about 2 to 2½ hours.
Meanwhile, make raspberry jalapeño glaze. Strain reserved marinade, discarding solids. Measure out 1 cup (250 ml) liquid, transfer to a small saucepan and bring to a boil over medium-high heat. Any excess marinade can be discarded. To saucepan, stir in tomato paste, water, chili powder, remaining 3 tbsp (45 ml) jam, pickled jalapeños and raspberries. Reduce heat to medium and simmer, stirring often, until raspberries have broken down and glaze has thickened slightly, about 20 minutes. Remove from heat and set aside.
Just before ribs are done, preheat grill to medium-high. Brush grills with a little vegetable oil, then place ribs on grill. Cook, turning occasionally and brushing often with glaze, until just beginning to caramelize, about 6 to 8 minutes. Garnish with green onion and fresh raspberries and serve with any remaining glaze for dipping.
Drink Pairings